St. Louis firefighters' union renews effort to control pension funds
A measure would move oversight of a pension plan for newer firefighters to the panel that continues to run a separate system for veteran firefighters and retirees
---
Mark Schlinkmann
St. Louis Post-Dispatch
ST. LOUIS — The politically influential city firefighters union has renewed its effort to return supervision of all fire department pensions to a firefighter-controlled board — a move blocked last year by a veto by then-Mayor Lyda Krewson.
Alderman Tom Oldenburg, 16th Ward, on Thursday plans to introduce a measure similar to the previous one, which also was opposed by the current mayor, Tishaura O. Jones.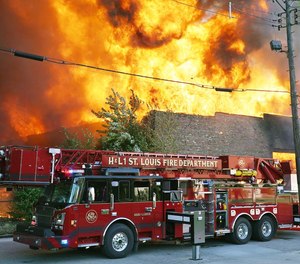 Prior to Krewson's veto, the Board of Aldermen had approved the previous bill despite warnings by the city budget director, comptroller and others that the legislation would reverse reforms enacted in 2012 that put a check on city pension liabilities.
Oldenburg on Wednesday reiterated his point that the measure simply moves oversight of a pension plan set up a few years ago for younger firefighters and new hires to the decades-old panel that continues to run a separate system for veteran firefighters and retirees.
Any benefit changes still would have to be approved by aldermen in the future, he has said.
"It saves the city money," he said of his legislation. "One board can manage two systems just fine." Moreover, he said, "it puts workers in charge of their own destiny in terms of their own retirement."
Budget Director Paul Payne said Wednesday he remains opposed to the change and that it "presents the same concerns we had" previously.
In addition to setting up a lower-cost pension plan for new firefighters to slow a growing strain on the city budget, the 2012 changes put that plan under a board on which city officials hold a majority rather than firefighters.
Payne also has disputed that putting the new system and old system under the old system's board would save money and that a key cost — investment fees — would persist under either approach.
Demetris "Al" Alfred, president of Local 73 of the International Association of Fire Fighters, said the union has reached out to Jones' office and hopes to have a meeting with her soon.
"We'll plead our case," Alfred said. "We think we have a good case."
Jones' spokesman, Nick Dunne, said Wednesday that "we are still reviewing the legislation" and declined to say whether the mayor remains opposed to the bill.
Dunne, however, released a copy of a Jan. 15, 2021, memo from Payne detailing his concerns about the proposed change and referred a reporter to Jones' criticism of the bill during her mayoral campaign last year.
Oldenburg said he was confident that his repeat bill had enough support to pass on the current board and that "we're pretty close to, if not right at veto-proof."
That means having enough votes — 20 or a two-thirds majority of the board's full membership of 29 — to override a veto if Jones decides to issue one.
While there are now just 25 aldermen due to four resignations, the two-thirds rule is applied using the full 29.
Alfred said the city's majority on the new-hire pension plan board makes some firefighters "nervous." There's a possibility that the city could take a "pension holiday" and not contribute at some point, he said, hurting the plan's health.
Oldenburg, who is considering running for aldermanic president in upcoming special elections, said his introduction of the repeat bill isn't connected to his possible candidacy.
"We tried to get this bill passed" last year, he said. "I wasn't running for anything then."
The proposed change also would have to be approved by the Missouri Legislature.
___
(c)2022 the St. Louis Post-Dispatch
McClatchy-Tribune News Service