'Facing the monster': Spokane firefighter battles PTSD
Lou Franchino was having breakdowns, erupting into tears at a moment's notice. He felt trapped as a car passenger.
---
Megan Rowe
The Spokesman-Review, Spokane, Wash.
Not long ago, had you asked Lou Franchino, a Spokane firefighter for 23 years, if he would ever return to work, he would have said no.
He was experiencing extended bouts of insomnia. While awake, he described a near-constant state of anxiety. Traumatic calls flashed through his head at a breakneck pace: People who shot themselves in front of their family members, people who died in fires, from sudden infant death syndrome or a heart attack at a family dinner. Franchino was having breakdowns, erupting into tears at a moment's notice. He felt trapped as a car passenger.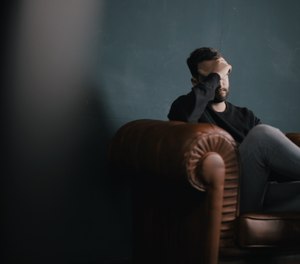 "It's like being on anxious, high alert, all day long, 24 hours a day, you just can't turn it off," Franchino said. "And you talk to yourself like 'Come on, calm down, you're safe, everything's fine.' You can't turn it off."
Franchino sought answers from multiple doctors and everyone arrived at the same conclusion: Franchino was suffering from post-traumatic stress disorder. Luckily for Franchino, Washington legislators passed a law last March which allowed him – and all other first responders – to receive treatment through workers' compensation. A similar bill is expected to be signed in Idaho by Gov. Brad Little.
The search for a diagnosis
Franchino's struggle with PTSD began late last March, when he injured his shoulder pulling a loaded hose in the training field.
"I was just at a very awkward angle and I was pulling quite hard, and I felt my muscle on my shoulder tear, and then I pulled it one more time and I really felt it tear, and I tore the muscle off the bone," Franchino said. "By the end of the day, my arm was hanging there limp. I couldn't move it."
Doctors quickly confirmed that Franchino's shoulder would require surgery.
"It turned out to be a very difficult recovery from the injury," Franchino said. "A lot of pain, sleepless nights, strong medication. … Somewhere in that process, all of the events I've witnessed over the years and all the sadness just flooded back to me."
Franchino's close friends, who characterize the former Air Force pilot as a "tough, masculine guy," noticed the difference in him, but couldn't figure out the cause. During a physical therapy appointment in mid-June, his girlfriend, Spokane emergency dispatcher Kelly Masjoan, decided she would stop by. When Masjoan walked in, she said Franchino broke down.
"He took one look at me, and as soon as I walked on the physical therapy floor, his face just contorted and he started bawling …" Masjoan said. "It caught both of us by surprise, it caught the whole staff by surprise, and I just sat there with him and explained to people, 'He's just going through a rough patch, we're not sure if it's coming off the pain meds, we're not sure if it's the pain from the shoulder, but it's just been overwhelming.' "
Longtime friend Monette LePendu said Franchino was a "ghost of himself" that summer. Boating on Lake Coeur d'Alene was a regular activity for their crew, but Franchino had anxiety about being stuck on the boat in the middle of the lake.
"You could see the anxiety in his face, and he wasn't jovial and happy like he usually is," LePendu said. "… All summer, our thoughts were, 'Lou, snap out of it,' this is what you're thinking as a friend."
Searching for a fix for Franchino, Masjoan felt helpless, especially given her profession as a dispatcher.
"My job is, by nature, I'm there to give them immediate relief to something horrible that's happened to them," Masjoan said. "I can give them some kind of remedy immediately, even though it's just a temporary relief, but that's my job. I'm a problem solver, so not being able to do that for him was really hard."
Masjoan decided that it might be nice to go away for the weekend, so she planned a trip to visit friends in Santa Rosa, California, in August. In the early hours leading up to the flight, Franchino had one of his most pronounced breakdowns.
Franchino said he woke up before the flight at 2 in the morning in a cold sweat. He paced his room for about three hours crying, wracked with anxiety. He tried to call Masjoan, but because it was so late and the flight was so early, she was asleep.
Finally, he decided to walk to LePendu's house – a straight shot a few blocks from his home – since she would be driving them to the airport.
"I don't know what happened, I ended up 10 blocks past her house, and I just stopped," Franchino said. "Where am I? I'd been walking, I didn't remember any of it. How did I get here? So I turned around and walked up to her house."
LePendu was not prepared for the knock on her door early in the morning.
"I jumped out of bed and ran to the door and see it's Lou," LePendu said. "He had this look on his face, kind of like terror. I opened the door and I just immediately hugged him, and he just burst into tears."
LePendu didn't know what to think, and Franchino kept repeating over and over "I can't do it." She tried to ask him what he couldn't do, but he continued sobbing. Finally, he answered LePendu, saying he could not get on the plane.
"This rugged man that I've known – I mean, he used to be a pilot – getting on a plane is not something that he's usually terrified of," LePendu said.
She assured him that he did not have to get on the plane if he didn't feel comfortable, and that he could change his mind at the gate if he wanted. LePendu called Masjoan to explain the situation to her.
"I just remember feeling confused and frustrated like, 'Wow, we just don't know how to stop this,' " Masjoan said.
Though Franchino was able to get on the flight, he knew he had to find a solution – his quality of life was untenable.
He spoke with his physician, physical therapists, and – for the first time in his life – consulted a therapist. Everyone arrived at the same conclusion: Franchino was suffering from PTSD. But it wasn't until he met with his shoulder surgeon that Franchino was convinced of the diagnosis.
"He said he was a medical doctor in Afghanistan for almost 10 years and he saw a lot of PTSD with the soldiers over there, soldiers who were never injured by a bullet or other means," Franchino said. "So he told me, 'I recognize that you have PTSD, I've seen it from lots of people, you need to get it treated and quickly.' "
Going back East
According to the findings of a study last April by the Ruderman Family Foundation, police and firefighters are at a heightened risk for depression, PTSD and suicide. Furthermore, they are more likely to die by suicide than in the line of duty. The study found that in 2017, 103 firefighters and 140 police officers died by suicide in the U.S., while 93 firefighters and 129 police officers died in the line of duty.
"It's pretty obvious through statistics in our profession that it was clearly becoming a problem," said then-Spokane Firefighters Union President Randy Marler. "We're actually losing more brothers and sisters to suicides than any other means, which has been an eye-opener for everybody."
When Franchino went to his superiors about his PTSD, they already had an understanding of how it was affecting first responders. In fact, Marler had lobbied for the law's passage that provided the coverage for Franchino's treatment.
"All of the planets were just perfectly aligned for Lou," Masjoan said.
Fire administrators and union officals were supportive, she said. "It was really kind of a beautiful thing that everybody worked together so well."
Melinda Stafford, a Spokane therapist who teaches psychology at Spokane Falls Community College, has treated many first responders for PTSD.
"I pray and pray and pray," Stafford said. "I always hope that I never have a client commit suicide, but certainly I have clients on my caseload who have been suicidal."
Marler was well aware of the risks of an untreated case of PTSD. He said every firefighter has a collection of traumatic memories.
"Nobody knows how many slides your slideshow can hold," Marler said. "The name of the game in this career is to get to the end without filling up your slideshow because when it's full, it plays, and when it plays, that's PTSD that leads to suicide."
Marler frequently attended union conventions, and in the past few years the International Association of Fire Fighters decided to build and fund an inpatient treatment center for firefighters, the Center for Excellence. At many conferences and conventions, Marler heard former patients speak about their experience at the center.
"Hearing their stories, you're like, this really works," Marler said. "I was convinced if we can get (Franchino) to go, we'll get him better. I have to get him to go. Not going is not an option."
Marler spoke with Franchino to get him comfortable, but he could see why Franchino might be hesitant.
"I think he was really resistant to the idea that, like, 'If this is the big thing that helps, what if it doesn't? Then what?' " Marler said. "That's gotta be a tremendous fear for a lot of people. 'Here's this center that's made just for people like me, and what if it doesn't work?' "
Franchino – a New Jersey native who settled in Spokane after being stationed at Fairchild Air Force Base – said he was nervous about the idea of "going back East." The decision would mean getting on a long flight and being out of his environment for an entire month.
"I just didn't know if I could handle that, but I had so many people – locally, friends, the chiefs, my union," Franchino said.
He also was being contacted by plenty of people he didn't know. He joined the Facebook page associated with the treatment center, and he started receiving messages and phone calls from people who also received treatment there.
"And they were telling me their stories, and they were the saddest stories," Franchino said. "Their marriages were falling apart, a lot of them had attempted or contemplated suicide."
Their message: It's only going to get worse. You have to go.
"I could see that because I already had low quality of life in the few months that I had the PTSD," Franchino said.
He made the decision to go, and Masjoan flew with him a few days ahead of when he started, Sept. 17, so he could get acclimated.
"I realized I either go get treatment or I'm going to wind up … I don't know where I'd wind up," Franchino said.
The first couple weeks were difficult for Franchino, but he said it helped that everyone was going through the same thing. With a mixture of group cognitive behavioral therapy, individual talk therapy and journaling, the center had him busy 8-10 hours a day.
"You'd sit around in an evening with 10 other guys, and you're talking about your PTSD and what triggered it, and the runs that were bothering you, and it was very therapeutic to talk to other people and realize we're all trying to get better," Franchino said.
Franchino said the group talk helped him and others look at their triggering memories in a new light. The talk was led by counselors, many of whom Franchino said had worked with war veterans dealing with PTSD.
"The group would comment about you, like you might say, 'I'm just so sad that I couldn't save this child, I was on this call and I couldn't save this infant, and I've been thinking about it for five years,' " Franchino said. "Then the group might come in and say, 'Well, you know, the child was going to pass away, you have to realize that. It had heart problems, and you did the best you could.' "
Journaling also helped greatly, he said. Franchino had to isolate a call and write as many details about it as he could.
"So you might take one event – I'll use an example that I had a woman who hung herself around Christmastime – and you just start writing, you write as many details as you can about the call," Franchino said. "Doing that kind of process of getting it written down is, like, you can face the monster now, it's written down, you can look at it, reread, and say, 'Oh, OK, that's what's running around in my head.' "
Franchino said this helped, because when the memories were flashing through his head, he could never stop long enough to examine the trauma.
"You have to commit to facing your demons and facing your fears and bringing it all out," he said.
Franchino said some people who attended the treatment center did not live in states that had a law for PTSD in first responders. As a result, they paid out of pocket.
"It's $30,000 or $40,000," Franchino said. "That's how bad the PTSD is, people are willing to pay $30,000 or $40,000 out of their own pocket to go get treatment, because they just know that there's no other choice. I was very lucky that mine was covered."
The biggest obstacle to creating a law to cover the treatment in Washington was cost. Because the number of first responders who are suffering with PTSD is unknown – especially because stigma causes many to remain silent about the problem – the costs were difficult to predict. Ultimately, workers' compensation rates for first responders in Washington were raised.
Masjoan, who had been communicating with Franchino every night when he was at the center, said she saw a dramatic difference when she picked him up at the end of the program.
"I noticed immediately that he was much calmer," Masjoan said. "I noticed that he wasn't anxious at all, wasn't having the crying breakdowns. He described feeling a little anxious at night when he was getting ready to go to bed, but we would just talk about lessons on how to tamp that down."
The 'gold standard' for PTSD treatment
When Franchino finished his time at the treatment center, he already felt much better. He went into the center with his anxiety level usually at a 7 or an 8 out of 10. These days? Franchino said he's usually a 2 or a 3, but still has bad days. As recommended by the center, he continued his healing with an EMDR (eye movement desensitization and reprocessing) therapist.
In Franchino's sessions, the therapist uses a light bar where the light toggles back and forth. He focuses on the light and speaks about the situations that bother him.
"Everything we've worked on through EMDR is no longer so frightful to me," Franchino said. "I process it in a different way. It's considered the gold standard for treating PTSD."
This is the intended result of EMDR, discovered by Dr. Francine Shapiro in 1987.
"(Shapiro) began to discover that certain really difficult emotions and dysfunctionally stored memories could be turned into functional memories as her eyes were moving left to right," said Denise Zahller, an Inland Counseling EMDR therapist. "She used to take long walks and her eyes would move across the path that she was on, left to right, and she would feel a lot better."
Through extensive research, Shapiro discovered that bilateral stimulation triggers the right and left brain in such a way that it adapts and reprocesses dysfunctionally stored memories. The treatment was first used on military and sexual abuse survivors suffering from PTSD.
Zahller said a traumatic incident "triggers brain chemicals … and that situation or that memory freezes that way every time we think of it, it triggers this overwhelming physical response."
She said our brain naturally tries to heal itself; that's why people often report feeling better when they've slept on a problem – during REM sleep, your brain quickly processes from left to right and can release these "frozen memories." But some dysfunctionally stored memories do not get reprocessed.
"It gets stuck, and we can't get any learning about it," Zahller said. "It feels like it's happening now, even though it happened maybe three years ago. It feels that immediate, and that's a hallmark of PTSD."
Stafford is also trained as an EMDR therapist, and she said that while she used to practice talk therapy and cognitive behavioral treatment, she became an EMDR convert when she first heard of it about 20 years ago.
"I mean, I'm an EMDR therapist, so of course I drank the Kool-Aid, but I used to do all of that stuff, and it just didn't help enough," Stafford said. "It didn't get to the body, it didn't help the person's autonomic nervous system go back to normal. In talk therapy, you're trying to use the brain to affect the body, and EMDR it's like you're helping the body change."
Both Stafford and Zahller said there is a certain challenge to treating first responders for PTSD.
"They're very guarded about getting help because if they lay down their guardedness and their natural desensitiveness that keeps them safe and protected on the job, then it feels like they're just going to fall apart," Zahller said. "It takes a therapist a while to develop a therapeutic rapport with them to the extent that that person will trust the therapist to guide and not to overwhelm."
Another barrier to treating first responders is that many develop alcohol and substance abuse problems.
"People may have a pretty bad case of PTSD, but they don't understand it," Stafford said. "They don't know they have it or they're in denial of it, but they're trying to make themselves feel better, and so you'll see their alcohol consumption really rise a lot of times."
Prioritizing health, helping others
In late November, Franchino returned to the job, but he didn't do it all at once. He spent a few hours a week getting acclimated, visiting with the crew and putting on his gear. He also went down to the YMCA to swim and sit in the steam room – something he did to address the claustrophobia, one of the symptoms of his PTSD.
"They were supportive," Masjoan said. " 'That's Lou, Lou's visiting again, yep, he's just getting ready to come back to work.' They were great."
These days, Franchino is equipped to make better decisions for himself. For example, Masjoan said that recently her dispatch sent Franchino on a call for a death in a motel.
"The person had passed away quite a few days before that, and it was not a pretty scene," Masjoan said. "Thankfully for him, there was nothing that the paramedics could do anymore, but an ambulance crew had gotten there ahead of time and went in, saw it, came right out and said to the fire crew, 'There's no need to go in unless you want to see that, there's nothing we can do,' and Lou wisely decided, 'I don't need to look at that.' "
Franchino also is focused on helping others. He said he was once a guy who would have been dismissive of a PTSD diagnosis.
"A year ago, if you asked me what PTSD was, I couldn't have told you what it was," Franchino said. "And if you did tell me, I probably would have said 'Get over it, toughen up.' I was one of those people."
Now, he has shared his experience with many of his co-workers, and he said some have confided in him.
"I think they're comfortable," Franchino said. "It's kind of like if you're getting a divorce suddenly, everyone is like, 'Oh, I understand, my wife and I almost got a divorce one time,' and I think they can talk to me, because they know I'm open about it and won't judge them."
Franchino acknowledges that he still battles with PTSD on a day-to-day basis, and certainly some days are better than others. On a recent shift, he was doing routine training, but it brought back a rush of memories.
"It let me know that the PTSD is still there despite all my efforts," Franchino said. "I've been warned by my counselors that PTSD never really is cured, but rather, managed."
Seeing the community through new eyes
Franchino said his experience with PTSD has made him view the homeless population in Spokane through different eyes.
"These people, probably quite a few of them are suffering from PTSD," Franchino said. "They don't even need to be veterans to get it, some of them just had traumatic events as children or in their family lives. So I look at the homeless people and I think, the poor people, probably a lot of them are suffering from PTSD for sure. I wish I was in a position to do more, and maybe I will be someday."
According to the American Psychological Association, two-thirds of homeless Iraq and Afghanistan veterans in a major sample struggled with PTSD.
But, accessibility could be improving in Spokane, Stafford said. She said the Humanitarian Assistance Program, which is an offshoot of the International EMDR Association, provides low-cost EMDR training to nonprofits, such as Lutheran Community Services Northwest and the YMCA.
Echoes of K27
In Coeur d'Alene, some police officers have struggled since the shooting death of Sgt. Greg Moore in May 2015.
"I can't divulge any confidences, but I can tell you that the loss of Sgt. Moore has had a deep impact on several of our members, and yes, some of them are no longer working here," said Sgt. Johann Schmitz, Coeur d'Alene police union representative. "Is there a causal link between the two? Probably."
Schmitz said the union strongly supports the legislation in Idaho.
"I don't know what the trigger might be, it might be different from everyone else," Schmitz said. "It might be the fifth dead child you pulled out of a car, or the 20th wife who's been severely beaten by her husband, and you know that she's going to continue in that cycle and you feel powerless to stop it, or it might be the shooting death of a colleague that brings all of these things to the forefront."
Schmitz said that at some point, the officer has a choice to make: Continue on the job or walk away.
"What we want to try to do as an association is let our members know it is OK to suffer, but it is not OK to not have some appropriate recourse for that suffering."
Coeur d'Alene police Capt. Dave Hagar said police officers experience an accumulation of incidents.
"You could talk to a myriad of officers who could say they watched somebody commit suicide, or they went to a welfare check call and were met at the door by a 3-year-old girl who tugs on their pant leg while the officer is trying to do CPR on their mother who's overdosed," Hagar said. "And the 3-year-old girl says 'Hey, don't let my mommy go to heaven.' I could go on and on."
Hagar said officers have told him, "I just don't want to see the red spray anymore."
Coeur d'Alene police Chief Lee White said he supports "anything that would forward the cause of getting PTSD recognized by the state as a valid diagnosis and an on-the-job injury that would be covered."
Hagar and White came to Coeur d'Alene from Mesa, Arizona, where PTSD already was covered.
"The state of Idaho is trying to play catch-up, and they're doing the right thing, it sounds like," White said.
Hagar, White and Schmitz expressed the concern that the stigma of PTSD keeps officers from coming forward. White said legislation could ease some of the stigma.
"If there was at least a bit of comfort knowing you're not going to get fired because of it, or it's not going to affect your employment in that regard, then officers might be a little bit more willing to talk about how a series of events has affected them emotionally," White said.
Franchino hopes that telling his story will help destigmatize the illness in the first-responder community, and that more will seek help.
"I'm very open about it, I'm not embarrassed to say I've got it," Franchino said. "I didn't do anything to get it – I did my job, I got PTSD."
———
©2019 The Spokesman-Review (Spokane, Wash.)
McClatchy-Tribune News Service