Quiet Warrior: Off-duty fire captain who saved couple from plane crash recalls 'miracle' save
Avalon Fire Department Captain John Meffert was on his way home for a Fourth of July getaway when Frank and Janan Pisano's plane hit his car and crashed onto the freeway
---
Sponsored by 5.11 Tactical
By Sarah Calams for FireRescue1 BrandFocus
June 30, 2017, started off as a normal – or as normal as you can get – day for Avalon Fire Department Captain John Meffert.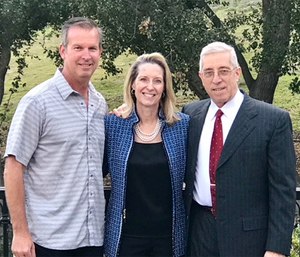 Capt. Meffert had just gotten off shift and was on his way home to meet his fiancée for a road trip to Palm Springs for an early Fourth of July celebration. However, he got stuck in bumper-to-bumper traffic on the 55 freeway.
"All of a sudden the freeway just opened, and I was the first car along with some others to the right that were able to get back to normal freeway speeds," Meffert said.
That's when Meffert noticed a low-flying twin-engine Cessna 310R by the John Wayne Airport.
"I'm on the phone with my dad saying, 'Wow, this plane is really low,'" he said. "That was my first glimpse. My second glimpse was, 'I think this plane is going to hit me,' and then my third glimpse was that I thought he was over me and was going to make the airfield, but that didn't happen."
Meffert's car was struck by the plane, but – miraculously – his car was only scratched.
"I remember seeing the aircraft spin behind my vehicle once or twice and nosing into the right wall and the explosion of fuel," he said.
The plane, piloted by 27-year flight veteran Frank Pisano with his wife, Janan, on board, spun off the wall, came to a rest and caught fire.
As the incident unfolded, Meffert, who was wearing a T-shirt, shorts and flip-flops, never skipped a beat.
"I remember never having an issue handling my car after the collision and coming to a safe stop," he said. "I placed my hazard lights on and made my way back across four or five lanes. My thought was to keep my car a safe distance from the wreckage."
That's when he stopped, jumped out of his car and started to run toward the plane.
Not always a firefighter
Capt. Meffert has not always been a firefighter. He joined the U.S. Navy right after high school in 1989 and served seven years as a hospital corpsman. He initially wanted to pursue being a corpsman for physical therapy and started working at a small facility at Naval Air Station Lemoore. Soon after, he got called up for the Persian Gulf and was assigned to the ICU with USNS Mercy.
"Every day, we had doctors and nurses that would sit down and give us lectures based on what the potential events we could see for injuries and what would be coming to us if we had this war," he said.
It was during this time that Meffert's interests changed from physical therapy to medicine.
Once he left the Persian Gulf, he was assigned to a naval base off the coast of Japan and worked at another small facility's ICU.
"On the days where we weren't busy, we went to work in the ER," he said, "and that's where I started having more passion for emergency medicine."
He came back to San Diego for the last part of his seven-year tour and brought back the knowledge he gained in Japan with a goal of going to physician assistant school after leaving the Navy.
Meffert was in the process of submitting his paperwork for PA school when he ended up moving to Catalina Island for the summer – only he stayed.
Soon after, an opportunity presented itself with the Avalon Fire Department when the chief approached Meffert about his interest in becoming a reserve firefighter.
"I started going to their drills," he said, "and eventually I was hooked."
Meffert was brought on with the department in 2000 to serve as a full-time/part-time member to cover members who were sick or on holiday. He was hired full-time in 2002.
And for the past 19 years, he has lived and worked on Catalina Island. However, in the last two years, he relocated and now lives in Orange County, California – exactly four miles away from Frank and Janan Pisano's house.
"If I had lived on the island still, then I would never have been in the area that day," he said.
'Mayday, mayday'
Meffert, who was still on the phone with his dad as the plane went down, quickly hung up after telling him he had been hit by a plane.
While running toward the plane, he noticed a head pop up.
"Mrs. Pisano was able to get out of the plane, which is a miracle in itself because that plane only has one door," Meffert said. "It's on the passenger side, and when they get in, they pull the lever that locks the door. There's no way to get into the plane from the outside once it's locked."
Because of the force of the crash, the door undid itself and Janan Pisano was able to push it up and get out.
"When I was running, I kept thinking, 'This whole plane is on fire. They're dead.' And here's this head that pops up, and I'm like, 'Well, if she can be there, I can definitely get there.'"
Meffert ran toward the tail section of the plane and went by the fuselage to reach Janan. At that time, she was still trying to get her husband, Frank, out of the plane.
"I grabbed her and told her, 'I got him, I got him.' I was able to get her to the back of the plane, and I came back for Frank," he said.
He had to untangle Frank's foot that was stuck in between the throttle and the seat. Eventually, he was able to pull him out safely and start rendering aid.
"It's just like how we're trained. I started asking questions: 'What's your name, where did you come from?'" Meffert said. "I was thinking they came from a different airport, but Frank said he came from John Wayne. He said the right engine of the plane malfunctioned and he called a mayday."
Five other good Samaritans came to the Pisanos' aid, said Meffert, some running up with fire extinguishers from their cars. By chance, there was also an ICU nurse that had just gotten off that morning and a nurse practitioner driving on the freeway when the crash occurred. Another good Samaritan, who was on the other side of the freeway, jumped over the wall and took off his shirt to use as the initial bandage for Janan's head. 
"It was amazing. Seeing the nurse in her scrubs and the care that was being given to Mrs. Pisano,  I was able to then focus more on Frank and started going back and forth a little to get information," Meffert said.
The crash rig at the airport heard the mayday, but experienced a response delay because the automatic fence would not open, Meffert added.
"The delay wasn't a big enough delay where they would've beat me to the plane, but the first firefighter who came off the rig could see I was rendering aid and I explained to him that I'm a captain over in Catalina. He didn't know me from Adam, what type of work I do or my skill level, but the next thing I know he opened up the bin and started throwing me medical equipment," he said.
The added help meant Meffert was able to focus on Frank as the nurses on scene tended to Janan.
"When EMS arrived on scene, I was able to get Frank's vital signs and then I stayed and helped," he said. "I helped backboard him and lifted him up and put him on the gurney."
At that point, Meffert's job was done. What happened next was out of the ordinary for a first responder.
Thankful, grateful for recovery and friendship
As a first responder, Capt. Meffert says, it's rare to see a victim that you help save. However, the Pisanos were a different story.
"I was off duty, so that changed things a little bit," he said. "When we're on duty, we don't always have the privileges or the rights to contact or follow up with a patient to see what their outcome was."
But Meffert was able to reach out because a family member and friend of the Pisanos contacted him. Within the first week, he was meeting them at the hospital. Frank was in the ICU, and Janan had just been released from the ICU into a general ward. They had both broken their lower backs in the crash.
The incident formed an unbreakable bond between Meffert and the Pisanos.
"I'm friends with them now. We meet every other week, we go to dinner," he said. "We just had Christmas with them. So out of this whole thing we have developed a really good friendship. They're wonderful people."
To this day, Frank Pisano credits Meffert's knowledge, background and training for his ability to walk.
"I had another good Samaritan who wanted to grab his ankles and lift him up," said Meffert. "I said to stop because he couldn't lift him, and I dragged him the way I did to keep his back neutral. Even with those potential moments of people wanting to help, it could have changed the outcome for Frank."
Even with the positive outcome, it took Meffert several weeks to put aside the "what ifs" of the event.
"What if I had been going a little bit slower or a little bit faster?" he said. "It could have been a different outcome for me – I would have been a victim instead of being someone that was able to render aid."
Fortunately, Meffert was in the right place at the right time to help the Pisanos in their time of need, and he says a much higher power was in play that day.
"They didn't have any burns. I'm in shorts, flip-flops and a T-shirt; the plane is on fire; I don't feel the heat," he said. "Looking back, I didn't even take in the fact that anything else was going to happen. I wasn't thinking about the secondary. I was just focused on the moment."