Firefighters hold 'Blizzard Prom' photoshoot for teens at station
After a blizzard left students without a place to take photos before prom, Forest Lake Fire station opened its doors for a unique alternative
---
By FireRescue1 Staff
FOREST LAKE, Minn. — A fire station saved the day for a group of teens who had nowhere to take photos before prom after an unexpected blizzard.
Fox News reported that after a winter storm left Forest Lake Area High School students without a photoshoot venue, the Forest Lake Fire department opened up its station so they could take photos there.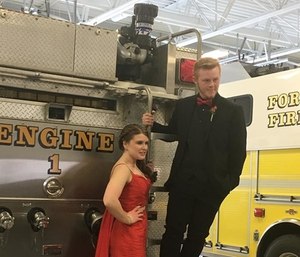 "PROM FAMILIES. Forest Lake Fire station will be opening their doors at 3 p.m. today for prom-goers to gather and take photos. Doors will be open from 3-6 today," the department wrote on Facebook. "Be safe and make the most of this memorable day."
The idea came from firefighter Sean Thomas' wife, Alyssa.
"She thought it would be pretty cool if we opened up the venue to take photos," Fire Chief Alan Newman said. "My initial thought was: Who's going to want to take a prom picture next to a fire truck? I was wrong."
Chief Newman said by the time 3 p.m. rolled around, "there were 50 cars" outside of the station.
"I got back on the phone and ended up calling some more guys and said, 'Hey, can you get up here?'"
The teens came fully dressed in their prom outfits and posed on fire trucks, wore fire helmets and held fire extinguishers for a unique prom experience.
"It was cool to be part of their special day — and parents were happy. They really looked like they had a lot of fun as well," he added.
The prom was ultimately canceled due to the storm and will be rescheduled for another time.