13 children of fallen 9/11 firefighters graduate FDNY academy
A total of 21 legacy children of fallen first responders graduated from the academy
---
By FireRescue1 Staff 
NEW YORK — Thirteen children of fallen FDNY 9/11 firefighters are among the most recent recruiting class that graduated from the fire academy this week. 
Probationary Firefighter Rebecca Asaro is following in the footsteps of her father, Firefighter Carl Asaro, who died on Sept. 11 as a result of the terrorist attacks, according to an FDNY press release. Her brother, Probationary Firefighter Marc Asaro, is also part of the graduating class, and the siblings will join their older brothers, who serve as firefighters as well.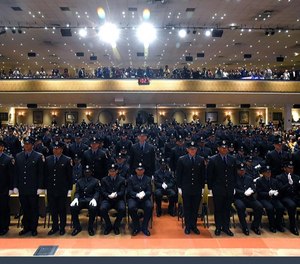 "Every day that I came to the academy, I was grateful to be there and to follow in the footsteps of my father, brothers, uncle and all those who came before," Rebecca Asaro said. "This is exactly where I want to be."
The 2019 FDNY graduation class is comprised of 301 newly sworn in firefighters. Among those were 21 descendants of first responders who gave their life protecting New York City, including an NYPD officer's son. The group also included 16 women, one of the largest groups to graduate in FDNY history. 
"Many of their fathers were killed on Sept. 11, several others died of World Trade Center illnesses, and others lost their lives in the course of their duty, bravely working to save and protect others," Fire Commissioner Daniel Nigro said. "Today, these 21 legacies are no longer children dreaming of their careers their fathers loved, and of serving in the world's greatest fire department – today, they have fully achieved their dreams."
FDNY Commissioner Daniel Nigro acknowledges the twenty one legacies graduating today from the FDNY Fire Academy. Each is following in the footsteps of his or her father, who made the Supreme Sacrifice in service to our city.

Posted by New York City Fire Department (FDNY) on Tuesday, September 24, 2019