Firefighters rescue Pope stuck in Vatican elevator
Pope Francis credited firefighters for rescuing him after being stuck in the Vatican elevator for about 25 minutes
---
ROME — The faithful in Rome had to wait almost half an hour on Sunday for Pope Francis to lead the traditional Angelus prayer as the head of the Catholic Church was stuck in a Vatican lift.
"I have to apologize for the delay but I got stuck in the lift for 25 minutes," Francis told the congregation in St. Peter's Square. Firefighters finally got him out of his predicament, he said.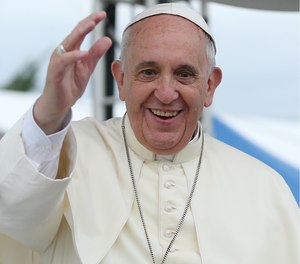 The reason for the elevator problems had apparently been a drop in voltage.
The 82-year-old pope is known for being very punctual, prompting people in St. Peter's Square to glance nervously at their watches when he did not show up at the window of the papal apartment in the Apostolic Palace at noon on the dot, the news site Vaticannews reported.
———
©2019 Deutsche Presse-Agentur GmbH (Hamburg, Germany)
McClatchy-Tribune News Service