What to expect on Day 1 of your new job as a firefighter
Four tips for making it through the early transition into your probationary period as a firefighter
---
Congratulations, you've made it through the civil service exam, background check, fitness test, interview, chief's interview, drug test and every other possible step involved in the hiring process. You've successfully shown that you're a better candidate than 99% of the aspiring firefighters out there.
Now that you've completed all of that, are you ready for your real work to begin?
Day one of your fire career is both an exciting and anxiety-ridden day. You want to be perceived as competent and calm, but deep down you know how nervous you really are. While the technical aspects of the job are vital, the social aspect is just as important, as this can dictate how much you enjoy coming to work. Here are a few tips to put you on the right path, not only for day one, but through the entire probationary period as a new firefighter and beyond.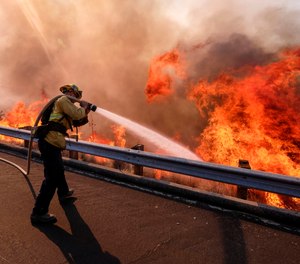 1. Do your homework ahead of time
While you won't be expected to know everything from the pump pressures, nozzle types and hoselays on day one, it's a good idea to become as familiar as possible with the tools and equipment. Do your best to gain as much knowledge as you can before you start. For example, knowing your city/district is a very important aspect of being a good firefighter. In the weeks leading up to your first day, drive the main roads of the city/district you'll be working in to become familiar with the neighborhoods and landmarks. You likely have access to Google Maps. Use it as a tool to become familiar with where you'll be working.
2. Come early and show you're interested in the job
No matter how you slice it, day one is tough. It's awkward, you're nervous, you're trying to make conversation with everyone, you're not sure where to be or what you'll be doing. Remember that everyone there has had their day one, and I promise it was just as awkward for them. The best thing you can do is to show up early, keep a positive attitude and show genuine interest in everything you do. I hear older firefighters complain all the time about how the younger generation is entitled and lazy. Do your best to show them that this is not the case, or at least that you're the exception.
3. Remember, you're not 'one of the guys' – yet
Yes, you are now a fellow firefighter, and yes, you will be held to the same standards and responsibilities as everyone else. However, most of these men and women you'll be working with have worked together for years, maybe even decades. The firehouse can be a tough place to acclimate, but whatever you do, do not join in on the roasting of another firefighter. You could almost say that having thick skin and sense of humor should be a part of the job description. But, you're not there yet. You haven't been around long enough to begin making such jokes. If you do this without having first earned the right to do so, it will be perceived very poorly and probably make your probationary period more difficult than you want it to be.
Being a firefighter is arguably one of the most exciting and rewarding jobs out there. There will be ups and there will be downs, but as long as you hold yourself to a high ethical standard and treat your fellow firefighters with respect and dignity, you should be on the right path.
4. Have a positive attitude
It may sound cliché, but don't underestimate the importance of a positive attitude. Every firehouse has that one (sometimes more than one) guy or girl who never has anything positive to say and is generally miserable to work with. Everyone dreads working with them and people generally try to avoid them. Always do your best to maintain a positive attitude and create a working environment everyone can enjoy.