Fla. firefighters rescue woman who re-entered burning home
Upon arriving at the scene, firefighters determined the homeowner's wife had gone back in to retrieve medication and had not yet returned
---
Carl Lisciandrello
Tampa Bay Times, St. Petersburg, Fla.
Firefighters rescued a woman who became overcome with smoke Sunday night after re-entering a burning home near Valrico to retrieve her medication.
According to Hillsborough County Fire Rescue, firefighters responding to the two-alarm fire at the 4000 block of Highgate Drive around 8:20 p.m. found flames coming from the roof and rear of the home, and thick smoke in the area.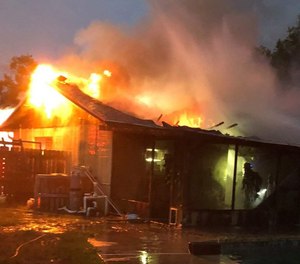 After speaking with the unidentified homeowner outside the home, firefighters determined his wife had gone back in to retrieve medication and had not yet returned, according to a news release.
Firefighters pushed through the front door and entered the house, barely able to see due to the thick smoke, officials said.
Firefighters made it halfway through the house when they heard the woman's screams in a back bedroom, officials said. They carried her to safety, where she was treated at the scene and transported to a local hospital with smoke-related injuries.
Crews got the fire under control within 45 minutes, and no other injuries were reported, officials said.
The cause of the fire is under investigation.
———
©2019 the Tampa Bay Times (St. Petersburg, Fla.)
McClatchy-Tribune News Service