'There are many heroes in my life': Honoring my post-9/11 support system
My dad will always be a hero but so are my mom and the people from the firefighter community who have supported us
---
By Connor O'Callaghan
Twenty years ago, life drastically changed for my family and thousands of other families across the country.
On September 11, 2001, my dad, Lieutenant Daniel O'Callaghan of FDNY Engine 54/Ladder 4, left our home like any other day. He said goodbye and told us he loved us, as always. That was the day my dad lost his life while rescuing civilians from an elevator in the South Tower.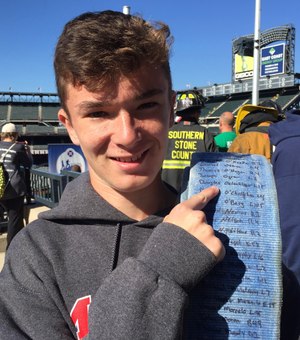 As a 1-year-old, I obviously could not comprehend what had happened. As I began to grow older, though, countless people would tell me my dad was a hero (along with how much we look alike). My dad has been, and always will be, my family's hero. However, what many people may not know is that there are many heroes in my life, particularly my mom and the people from the firefighter community who have supported us.
We have met so many generous and kind fire service members, whether from my dad's fire station, a local fire department or really any fire station across the country.
In the fall of 2015, my mom and I attended the 9/11 Memorial Stair Climb at Citi Field in Queens. We were able to pay tribute to the FDNY firefighters who lost their lives by walking the equivalent of the 110 stories of the World Trade Center. Every year, hundreds of fire service members from across the country come together to complete this journey.
At this event, my mom and I met two firefighters that had driven all the way from Florida to be there. These two men took the time to handwrite on a fire hose the name of every firefighter who sacrificed their life on 9/11. Wearing full equipment, the firefighters completed the climb, alongside my mom and I, while carrying that hose. Following the climb, the men allowed me to take a picture with their hose draped over my shoulder. There were hundreds of names written on that hose, yet the one name showing perfectly on my shoulder read "Daniel O'Callaghan L4."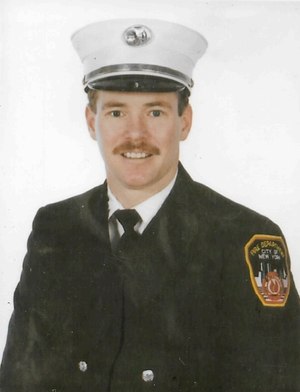 I have met so many incredible firefighters over the span of my life, but this story has stuck with me. After miraculously seeing my dad's name because of these men, it showed me how deep the emotional connection is within the firefighter community. Those men, along with hundreds of other firefighters, come together every year to recognize heroes like my dad and show that they will never forget their sacrifices. These selfless people not only embody what it means to be a firefighter, but also the brotherhood that comes along with it.
What I have found is that no matter where you come from, firefighters share a special connection that is like a family, and I am proud to be a part of that family bond.
The compassion, as well as the camaraderie of the fire service community, is what resonates deeply with me 20 years after 9/11. After the Towers collapsed, hundreds of firefighters continued to risk their lives to search for and recover bodies at Ground Zero, including my dad. My family and I are forever grateful to those that helped recover my dad's body. From my perspective, that is what being a firefighter is all about – having the courage to put others before oneself.
My family received an immense amount of support and compassion following the attacks. I now consider many of those people who have been there for us from the beginning to be a part of my family. I am forever grateful to the firefighters who have always been in my life for not only helping my family but also acting as role models that I could look up to. Without them and my mom, I would not be the man I am today.
Through everything that happened to our family, my mom demonstrated incredible perseverance, courage and resilience. She showed me the true meaning of strength, and I believe that as a 9/11 widow, she does not always receive the recognition she deserves. When her entire life was flipped upside down, she showed true bravery. As I am sure many parents know, raising a child is not easy, and my mom raised me and my sister by herself during the most difficult time of her life. I could not ask for a better role model in my life, and I know my dad is incredibly proud of my mom.
Ever since I can remember, my mom always told my sister and myself to not let what happened to our family bring us down. Of course, what happened to us was a tragedy, but if we allow ourselves to become broken, then the people who committed those horrendous attacks win. Twenty years later, my family still has not let this devastation bring us down, and I ask everyone who is reading this to do the same.
So on the 20th anniversary of 9/11, I want people to not only honor those who were lost but also use the day to be with and appreciate their loved ones. If there is anything I have learned, it is that life can change in the blink of an eye. If I could give one message to whoever is reading this, please tell those who you care for that you love them.
About the Author
Connor O'Callaghan is the son of FDNY Engine 54/Ladder 4 Lieutenant Daniel O'Callaghan, who was killed on September 11, 2001, while rescuing civilians from an elevator in the South Tower.