Off-duty Chicago FF shot in face in drive-by shooting
Firefighter Timothy Eiland and five others were shot outside birthday party; one woman dead
---
By Rachel Engel 
CHICAGO — An off-duty firefighter was shot in a drive-by shooting on Saturday night. 
Firefighter Timothy Eiland was leaving a birthday party for his nephew when he was shot in the face, WGN reported.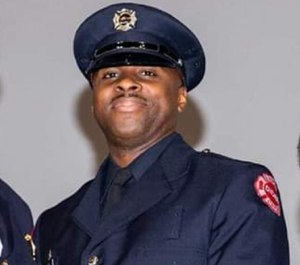 "We were talking, telling each other we love each other before we left, you know what family do," Eiland's sister, Ellishama Wright, said. "Then the next thing I know, I heard what sounded like firecrackers, but it wasn't." 
Eiland, a father of five, remains hospitalized, but is reportedly responsive to his name and can blink his eyes.  
Five others were shot during the incident, including Eiland's 15-year-old niece, who was shot in the arm. She is reportedly in fair condition. A 42-year-old unidentified woman died from her wounds.  
"Please, if you know anything, please, please call the authorities. Tell someone. Please help," Wright said. "Pray for my brother. Pray for my daughter. Pray for the other people who got shot. Pray for Chicago." 
Eiland is a second-generation CFD firefighter; his father is a retired captain.