NC water rescue team saves boy, 8, on unicorn float half-mile out to sea
Rescue Chief Tony Young credited the young man for staying on the raft otherwise he may have drowned
---
By FireRescue1 Staff
OAK ISLAND, N.C. — Oak Island Water Rescue firefighters saved an 8-year-old boy that had drifted a half-mile out to sea on his giant unicorn-shaped float.
The volunteer rescue team sent out a boat within 15 minutes of receiving the emergency phone call from his parents asking for help, CNN reported.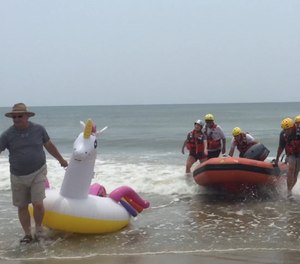 Initially, the boy was situated on the sand when a wave pulled him into the water. He had already begun drifting out to sea by the time his father noticed and jumped into rescue him.
Rescue Chief Tony Young credited the boy for staying on the float, otherwise he may have drowned. He also said they do these types of rescues a few times a year, but this is the first time a kid was in the mix.