Off-duty battalion chief praises Boy Scouts' response to Amtrak crash
Mo. firefighter Todd Covington described the derailment and aftermath, saying, the scouts "probably saved 20 or 30 people's lives"
---
By Leila Merrill
KANSAS CITY, Mo. — Two Kansas City firefighters survived the Amtrak train derailment Monday. One of them described the rescue effort that followed and praised work by Boy Scouts and residents of Mendon, Missouri.
The two Missouri firefighters were on their way to Chicago for training, KMBC reported.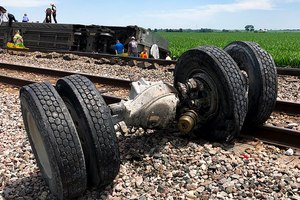 Battalion Chief Todd Covington, who oversees firefighters at Kansas City International Airport, said he was in the Amtrak train's restroom when the train started to derail after hitting a dump truck.
"He (the engineer) was laying on the horn," Covington said. "The next thing I know, the entire, the entire world was on its side."
Covington made his way out of the train by climbing out from the dining car.
"There were plenty of people there, and just start putting them to work," he said.
He started lifting people out of the train, with assistance from the Boy Scouts worked with him.
"This Boy Scout group was fantastic," Covington said. "They probably saved 20 or 30 people's lives."
WJHG reported that 16 scouts ages 13 to 17 years old and eight adults with troops 73 and 12 from Appleton, Wis., were on the train, returning home from a backpacking trip at a wilderness camp in New Mexico.
Scouts broke windows, helped people off the train and tried to save the life of the dump truck driver, who died.
"I'm proud of them. One Scout wrapped his hand, took his shirt off, wrapped his hand to break some windows to get people out. Another Scout went and comforted the driver of the truck that was hit and tried to stabilize him," said Dan Skrypczak, scoutmaster of Troop 73. "They were tandem working on that gentleman when he expired, so that Scout is pretty shook up."
Two of the adults with the troopers were transported to hospitals. One reportedly suffered a cracked vertebra, and the other had seven broken ribs and a bruised lung.
Scott Armstrong, director of national media relations with the Boy Scouts of America, said the other troop members were transported to a hospital on a school bus to be checked as a precaution. They had cuts and bruises, but no serious injuries.
"These Scouts are highly trained. They would have received advanced first-aid training prior to going, including their adult leaders, would have had people with wilderness first-aid certification, which is a pretty advanced course," Armstrong said. "Luckily they had that training because I'm sure they put it to use today."
Covington expressed his gratitude for Mendon residents who helped after the crash.
"That town came together exceptionally well – took care of everybody," Covington said.