'You always remember your first': A first firefight filled with coincidence
The working fire call was announced … as my address
---
FireRescue1 Unforgettable Calls is a place where firefighters across the country can stell their stories about the calls that have stayed with them, everything from the play by play of a mayday call to the memorable moment a patient thanked them for saving their life. If you want to share your story with the FireRescue1 community, please review our submission guidelines and email editor@firerescue1.com.
They say you always remember your first.
It was Dec. 8, 2019. I had only been a volunteer firefighter a few months when on one of my very first overnight shifts, the tones dropped at around 1 a.m. 
All of us arose from our slumber. I made it to the engine the quickest because I have a fear of being last if not one of the first on the engine.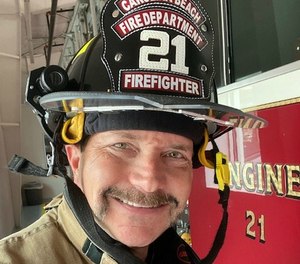 As we were donning turnout gear for what is announced as a working fire, I hear the address of the call – my home address. My mind couldn't comprehend it. I live in one of 65 condos in an 11-story building. The odds were on my side that it wasn't my condo where, at that hour, my wife and dog were sleeping.
Our engine screamed to the location. From a block away, we could see flames. 
I was suddenly relieved to see the address reported by Central was not the fireground. It was a single-family three-story in an area to the side of our building. The people reporting the fire could simply see it from my building, hence the confusion with the address. Just 6½ hours earlier, I had been leaving home and passed the house on my way to the station – and now it was in flames.
Coincidently, my wife had decided to walk our dog around 1:15 a.m. She had opened the door on the 11th floor and saw the flames bellowing out of the house across the street. Her first reaction was to text me – a message I wouldn't receive for a few hours. I was, after all, was fighting my first fire. 
Because this was my first fire other than a training burn, I remained exterior throughout the night and worked a stream from the front yard, assisting other firefighters as needed.
I thought back to how I watched them build this house over the course of several months. We watched the family move in and enjoy their new surroundings. They would occasionally wave at me as I was walking my dog, as their yard was visible from our dog walk area. 
But there was always something about that house that bothered me. For some reason that I cannot explain, I thought there would be a fire there at some point. I have nothing to substantiate the claim, nothing looked off, and I probably wouldn't recognize a problem from where I could see the house anyway. It was just an odd premonition – one I have never had before and have not had since.
It took months for them to do anything with the house after the fire. It stood vacant, melted, and the smell of that night still permeated the air for months. Every day I hoped that they would knock it down because it almost became a PTSD issue for me to have to see and smell the house every day knowing I was part of the firefighting effort.
The house was eventually razed. Today, the house has been framed once again – with the same blueprint as before.
[Read next: Unforgettable Calls:  'Brothers and sisters helping a brother and sister in their time of need']