'Brothers and sisters helping a brother and sister in their time of need'
Growth from tragedy: A tragic MVC prompts a department to work together and form a fire family
---
FireRescue1 Unforgettable Calls is a place where firefighters across the country can stell their stories about the calls that have stayed with them, everything from the play by play of a mayday call to the memorable moment a patient thanked them for saving their life. If you want to share your story with the FireRescue1 community, please review our submission guidelines and email editor@firerescue1.com.
I remember the night like it was yesterday.
It was the fall of 2011. As the cool evening began to set in and the kids were busy with school and football or soccer practice, we were paged to a one-vehicle rollover on Interstate 25.
All of us have had that feeling after a call – that feeling that makes you replay the events over and over.
This night was different for me. It was different not because of the accident with two college students trapped under and in the vehicle, not because of the extent of extrication skills that were required by our members to remove the patients from the vehicle, not because the victims were brother and sister.
It was not different because the brother passed away. We have all had those calls – the sad, tragic accidents – and we can still see, smell and hear those calls like they were yesterday, not years ago.
But this call was different for three other reasons.
'They were transforming in front of my eyes'
The first reason was because I was new to my organization as their fire chief. I was an outsider who had been with the organization less than six months. I was still learning who I was as a fire chief, who our members were as people, and what our family dynamics entailed.
This was one of the first significant calls that required our members to perform at a very high level during a traumatic event. As they performed the physical skills of lifting and cutting apart the SUV, then the delicate skills of freeing and removing the deceased brother, and comforting and stabilizing the sister, these members were transforming in front of my eyes. They were transforming from individuals into a fire family, brothers and sisters helping a brother and sister in their time of need. I will never forget those feelings – pride, love and sorrow – of an incredibly traumatic event and the strength that rose from that night.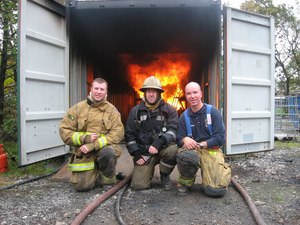 'A chief advisor in my ear'
The second reason this call was different: We were hosting the first firefighter academy for the organization.
Remember, I was new, and I was changing a culture and establishing new ideas. To help me get a foothold in the change dynamics, I asked one of my mentors – Fire Chief Jim Mastin (ret.) – to visit from out of state to assist in the academy.
Out on the incident scene, I remember Jim standing in the ditch with our members and the calm that oozed from his presence. I will never forget as the event unfolded, Jim would walk past me and give me just that little reminder or word of wisdom. Having Jim present to help our organization grow on this difficult call was equivalent to having a guardian angle on your shoulder, or in my case, a chief advisor in my ear.
'Our fire family grew that night'
The final reason this call was different was the days, weeks, months and years that followed. As I stated, our fire family grew that night, but the family of the victims and even the surviving victim also became our family.
We visited the daughter in the hospital and met with her parents to share our condolences. The father spent hours in my office talking about his son and the grief he was now experiencing.
Our ability to share with the family helped our fire family and me personally. In fact, a month doesn't go by that I don't run into one of the family members and, without words, we both know and understand what that tragic night brought to both of our families and what we will all share forever.
This all occurred because of how we interacted with the family that night and in the following days. We shared our fire family with the victim's family as they grieved and struggled with all the emotions of losing a loved one. I think in my 25-plus years, this one event truly showed the strength of what our fire family can be and what we can share with those in need. Truthfully, our organization was in just as much need during this incident, and we all walked away with more clarity and value in each other.
One call can change everything
This night was not unlike any other rollover vehicle accident, and if you have been in the fire service for any time, you have experienced serious motor vehicle accidents. The difference this night was the almost-spiritual events that brought us together as a fire family with the guidance of a very important mentor to help us recognize what we were experiencing. I have always heard and said that when an organization is struggling or has lost its way, one call can refocus the organization. That tragic calls made us all stronger.
[Read next: 'You always remember your first: A first firefight filled with coincidence]