How to become a wildland firefighter
There's a greater-than-ever demand for wildland firefighters; here's how to get started
---
Every year in the United States, wildland firefighters protect our forests, communities and natural resources. These highly skilled individuals are committed to wildfire suppression, management and control. It is inherently dangerous work that requires targeted knowledge, skills and abilities, plus extensive training and a lot of hard work.
So, how exactly does one become a wildland firefighter? Most if not all agencies and private contractors offer training programs. The U.S. Forest Service, for example, has its own Wildland Firefighter Apprenticeship Program. Selected applicants learn on the job by attending a two-month-long, 3,000-hour residential firefighting academy. They are paid for their time, and all training costs are covered by the agency.
Recognizing the challenges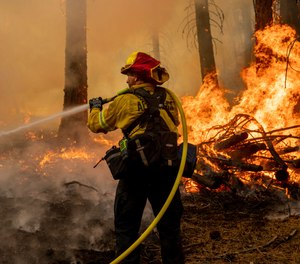 Most men and women who sign up to be wildland firefighters do so because they enjoy the adventure, the opportunity to spend time in the great outdoors, and the camaraderie of working as part of a team. The physical work keeps firefighters in great shape, and the money isn't bad either, enabling them to pursue more enjoyable activities in the off season.
It is important to point out, however, that wildland firefighting is not the romanticized profession often depicted in movies and on TV. Wildland firefighters can be away from home for weeks at a time and face as many as three days of travel on either side of those two weeks. Plus, they do not usually work regular eight-hour shifts; instead, they may be asked to work shifts of 16 or more hours. The ability to work overtime is expected and not doing so can negatively affect one's chances of being rehired in subsequent seasons. In addition, wildland firefighters should not expect to get much time off, especially during fire season, and canceled plans are frequently the norm.
Wildland firefighters spend long hours in extreme conditions exposed to the elements. Work is mainly performed in forest and range environments with steep terrain. Getting to the fire may require hiking for hours while carrying heavy gear over uneven, rocky slopes covered in vegetation. Temperatures can vary widely. Risks include smoke inhalation, fire entrapment, snake or insect bites and stings, exposure to excessive machinery noise, and falling and rolling materials.
When at an incident or on assignment, crews may live in fire camps (aka tents) with no access to amenities such as a comfortable bed or a warm shower. Cell phone access can be spotty or nonexistent, sometimes leaving firefighters with no way to check in with family and loved ones for days.
Despite all the adversity, wildland firefighting remains a highly competitive occupation, with many applicants vying for limited positions.
Who's hiring and when?
In the United States, various federal (National Park Service, U.S. Forest Service, Bureau of Land Management, U.S. Fish and Wildlife Service, Bureau of Indian Affairs), state (Department of Forestry, the Department of Natural Resources) and local agencies hire wildland firefighters.
The uptick in fire activity nationwide means that private contractors are also an increasingly important part of wildland firefighting. In recent years, contract firefighters have accounted for approximately one-fourth of the nation's 40,000-plus wildland firefighters.
When should an aspiring wildland firefighter look for a job? Wildland firefighter positions are typically advertised in the off season (October–December),and hiring occurs as the fire season approaches (January–March). Candidates are advised to apply during the September/October timeframe since many positions close by January.
The heavy competition for wildland firefighting jobs means that the earlier candidates can start training, the better. Candidates are also encouraged to ask questions and be ready and willing to learn.
---
---
Basic requirements
Specific job requirements vary depending on the agency, but some are fairly basic and generally apply across the board. The basic requirements for wildland firefighting jobs with U.S. federal government agencies, for example, include:
U.S. citizenship
Age 18 or older at date of hire
High school diploma or GED
Relatively clean criminal record
Valid driver's license
Drug test and/or background check
Passing the Arduous Work Capacity Test
Training
Prospective wildland firefighters should focus on two areas: physical health and wildland fire-focused education.
In general, firefighters must pass extensive strength and endurance tests prior to their hire and throughout their careers. One way to prepare for these tests is by doing cardiovascular training while carrying weights. This activity prepares firefighters for the challenging conditions of a fire scene by simulating the real-life scenario of, for example, traversing steep terrain while carrying heavy gear and equipment.
Although a college education is not required for entry-level positions, firefighting experience is generally preferred and a certificate or degree in fire science is always a plus. Applicants should consider joining a volunteer fire department to learn the ropes and get their foot in the door. They should also look into taking fire science and EMT courses at a local vocational school or community college.
Qualifications
Entry into the department training program usually requires candidates take both a written and a physical test.
The written test consists of 100 questions and focuses on spatial awareness, mechanical reasoning, and logic, all abilities required of a firefighter.
The physical test, known as the Arduous Work Capacity Test (or "Pack Test"), helps eliminate candidates who are physically incapable of or unfit for the work. Potential firefighters must demonstrate they can perform the essential functions of arduous duty by completing a three-mile hike through rough terrain while carrying 45 pounds of gear. The hike must be completed in 45 minutes or less, with no running allowed.
By definition, arduous work involves supplying the muscles with the oxygen they need to work without undue fatigue (aerobic fitness) and having the strength, muscular endurance, and flexibility to lift and carry heavy loads (muscular fitness). Aerobic and muscular fitness enable firefighters to meet the job's demands for extra-strenuous activities. All wildland firefighters perform arduous duty.
Every federal agency requires candidates to pass the Arduous Work Capability before they will issue an Incident Qualification Card (or "Red Card"). The Red Card shows that the candidate has the training, experience, and level of physical fitness required by the firefighting agencies that are members of the NWCG.
If candidates are accepted into the program, they will continue on to fire academy training.
Note that it is not unusual for wildland firefighters to require additional certifications specific to their duties. A parachuting firefighter, or smokejumper, for example, must pass a battery of medical evaluations and a standard smokejumper physical training test before being qualified for the job. Prospective candidates must also meet certain age, height, weight, hearing and vision requirements, without exception.
Each agency has its own educational requirements. In Colorado, for example, candidates must earn their Red Card by completing the NWCG's Basic Firefighter course and Introduction to Fire Behavior course. The National Park Service requires candidates to pass the written and physical tests and meet certain medical standards.
Some agencies perform mandatory drug testing, which includes tests for THC. Although marijuana is legal in some states, it is still illegal at the federal level and detection of THC may be grounds for discipline or dismissal.
Rising through the ranks
To advance, firefighters may have to complete additional training and education. Again, although not required for entry-level jobs, firefighters pursuing leadership positions may need a bachelor's or even a graduate degree in fire science.
Wildland firefighting involves many specialist roles, including air attack, fire engine crews, fuels management, hand crews, heli-rappel, helitack, interagency hotshot crews, patrol and prevention technicians, and smokejumping.
Many firefighter specialty programs exist to provide hands-on training for these advanced positions. The Bureau of Land Management, for example, has a national Fire and Aviation Program for those who want to become smokejumpers.
High demand
Climate change and the expanding wildlife-urban interface are extending the fire season. Wildfires have grown in frequency, size and number, with no slowdown in sight, and these fires are more severe and more intense.
As of Aug. 15, 2021, 33 incident management teams and more than 25,000 wildland firefighters and support personnel were assigned to fire incidents throughout the United States.
The result is a greater-than-ever need and demand for wildland firefighters. Candidates who are willing to do the work to get hired and healthy and safe while on the job will likely have a successful and rewarding career as a wildland firefighter.