President Biden receiving regular updates on worsening wildfire situation in West
White House: Administration is approving grants to help fire agencies manage expanding fires across the Western U.S.
---
By Janelle Foskett
WASHINGTON, D.C. — With wildfire conditions continuing to worsen, primarily across the Western United States, the Biden administration is approving grants to help affected communities.
White House Press Secretary Jen Psaki shared during Friday's press briefing that President Joe Biden is receiving regular reports about the wildfire situation and is "quite focused on it." Psaki added that the president has been meeting regularly with Western governors and "I expect we'll do that again soon."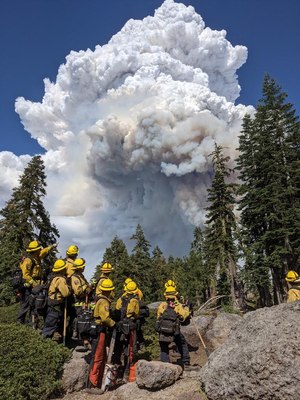 FEMA Administrator Deanne Criswell is visiting Idaho, Oregon and California this week to meet with state, federal and tribal partners, as well as other emergency groups, about the worsening wildfire situation, Psaki said, in order to coordinate response efforts and discuss how the regions are addressing climate change and ongoing resilience work.
"We are also closely coordinating with officials on the front lines to provide federal assistance as needed, including by recently approving Fire Management Assistance Grants for fire departments in Oregon, California and Washington, which are where there's the collective threat to homes and major communities, and we're also continuing to monitor these fires from here," Psaki said.
The national wildland fire preparedness level is currently at its highest level, 5.
In the past two weeks alone, 2.5 million acres have burned across the United States, with the number of large, uncontained fires increasing by nearly 90%.
Tune in for a briefing with Press Secretary Jen Psaki. https://t.co/JBxJzs2nYW

— The White House (@WhiteHouse) July 23, 2021