Death toll rises to 6 from pileup on Pa. highway
Police say that 24 people were injured in the fiery chain of crashes
---
David Matthews
New York Daily News
MOUNT PLEASANT, Pa. — The death toll following a massive pileup on a Pennsylvania highway has risen to six.
The state police said Wednesday that the identities of the deceased were still being withheld until all the family notifications could be made following Monday's mid-morning crash on I-81 that led to an 80-vehicle crash, likely caused by a snow squall.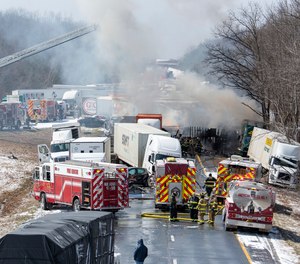 Police also said there were 39 commercial vehicles, including tractor-trailers, and 41 passenger vehicles involved.
An additional 24 people were injured in the incident as well.
The fiery crash occurred around 10:30 a.m. near Minersville, about 100 miles northwest of Philadelphia.
Some of the mayhem was caught on video.
Portions of the interstate were closed for 40 hours as debris was cleared away and repair work was done on the road, but it fully reopened around 1 a.m.
Police had initially said a lower number of people had died but had been unable to access all the burning vehicles until later Monday.
___
©2022 New York Daily News
McClatchy-Tribune News Service