Ill. firefighters revive cardiac arrest victim after car crash
Firefighters fought to successfully revive an 81-year-old driver who went into cardiac arrest after a two-vehicle crash
---
Tony Reid
Herald & Review, Decatur, Ill.
DECATUR, Ill. — Firefighters fought to successfully revive an 81-year-old driver who went into cardiac arrest Sunday afternoon after a two-vehicle crash at the intersection of North Franklin and East Eldorado streets.
"The alarm time was 2:34 p.m. and while we were in route Decatur Police asked us to expedite, they had an unresponsive driver in one of the vehicles," said Battalion Chief Jim Ohl.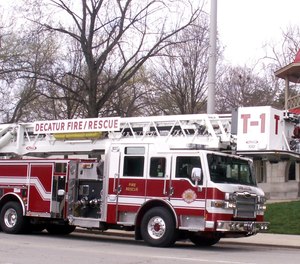 "Our first unit that got there found the male underneath the dashboard on the floor, unresponsive and in cardiac arrest." Ohl said he was pulled from the vehicle quickly and CPR performed. "He then a had a pulse in the back of the ambulance and was trying to take some breaths of his own," added Ohl. "Our crews did a great job."
Ohl said there was a 51-year-old woman and two girls aged 7 and 4 in the other vehicle who all appeared to be unhurt but were taken to hospital to be checked over as a precaution.
Sgt. Adam Jahraus with Decatur Police said the intersection was shutdown for several hours while emergency crews and police worked the scene. He said no tickets were issued in the accident and said it appeared the male driver had some kind of "medical event" that led to the crash.
———
©2019 the Herald & Review (Decatur, Ill.)
McClatchy-Tribune News Service