SC fire captain comforts military veteran struggling with PTSD during flight
Burton Fire District Capt. Bobby Davidson was headed on a trip with his wife for an anniversary when he noticed a woman in need of emotional support
---
Sofia Sanchez
The Island Packet (Hilton Head Island, S.C.)
NEW ORLEANS — Passengers aboard an American Airlines flight from New Orleans to Dallas earlier this month had no idea what they were about to witness.
A veteran in need.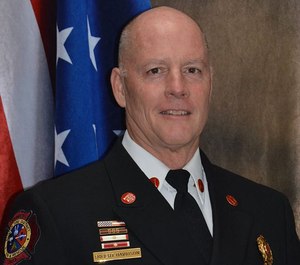 Another ready to help.
Burton Fire District Capt. Bobby Davidson was on a trip to celebrate his anniversary on June 15 with his wife when he noticed a woman in the terminal breathing heavily and looking anxious. Then, after boarding the plane, Davidson and his wife were seated in the same aisle as the woman. She yelled, "I can't do this, I can't do this," Davidson recalled.
Turns out, she was a veteran, too. She had served in the Marine Corps and had been in a plane crash during her military career, Davidson said.
"I can identify with that," Davidson said. "I have my own battles."
Davidson served in the Air Force from 1983 until 1986 and graduated from the S.C. Fire Academy in 2003.
Recognizing her labored breathing and anxiety as signs of post-traumatic stress disorder, Davidson drew upon the crisis training he learned as a firefighter and switched seats with his wife so he could sit next to the woman and try to calm her down.
"She had physical scars and, obviously, emotional scars," Davidson said. "And a desperate fear of flying."
The flight attendant "asked me if she was going to be OK, and I said, 'I don't know her, but I'll try to help her,'" Davidson said.
For the next 90 minutes to their destination, he continued to talk to her. Struggling with PTSD is an "unfortunate event that happens throughout the military service and fire service," Davidson said while holding back tears. Attention to, and treatment for, mental health problems — including PTSD and anxiety — are badly needed, especially for members of the military and first responders, Davidson said.
"A lot of it, we do manage to put away," Davidson said. "But some of it just won't ... It fills up. Everybody is different."
Mental health issues ongoing
An average of 10% to 20% of military personnel and nearly 300,000 veterans who served in Iraq or Afghanistan experience PTSD post-deployment, according to Cohen Veterans Bioscience, a nonprofit biomedical research organization.
"Unfortunately for her, like a lot of us, you never know when that's going to fill up," Davidson said.
Landing was the worst part for the woman, Davidson said, because the shaking and loud noises seemed to send her into another anxiety spiral. He arranged with the flight attendant to allow the woman off the flight first, and she continued to yell and had difficulty breathing as she made her way down the aisle past other passengers. Davidson was by her side to help soothe her.
"I think the airline did what they could," Davidson said.
Davidson was able to help the woman through her crisis because "veterans know how to talk to veterans," Burton Fire spokesperson Capt. Dan Byrne said.
Davidson said he just did what he could.
"I'm sure, for her, I didn't say everything right," Davidson said. "I tried to give her what I could and what I would want someone to do for me."
___
(c)2021 The Island Packet (Hilton Head, S.C.)
McClatchy-Tribune News Service