Ala. congressman, firefighter/EMT helps save police officer in cardiac arrest
Congressman Dale Strong, a firefighter and EMT, helped with bystander CPR after being alerted to the call
---
By Paul Gattis
al.com
HUNTSVILLE, Ala. — Alabama Congressman Dale Strong, while home in the Huntsville area for the summer recess, helped treat a Virginia police officer last weekend who had suffered a cardiac arrest.
Strong, a longtime firefighter and EMT with the Monrovia Volunteer Fire-Rescue, said Thursday that the victim, Kyle Browne, is recovering at Huntsville Hospital.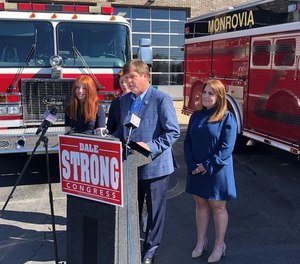 "I love volunteering with the fire department," said Strong, a freshman congressman who launched his campaign in 2021 outside the fire department. "I happened to be about a mile from the cardiac arrest patient. This gentleman is a Fairfax County, Virginia police officer, 31 years old. He was in full cardiac arrest right there at the Clift Farm subdivision. He was out taking a three-mile run. Bystander CPR was begun immediately. I arrived within a minute and a half. We defibrillated him three times, put him on a LUCAS device. And within about 14 minutes, we regained the pulse.
"He's doing very well. His entire family from Virginia is here in Huntsville now. He's at Huntsville Hospital. And it looks like things are going to turn out well for he and his family. He got married a year ago."
An update on Browne's condition, posted Wednesday on CaringBridge.org, said, "Kyle was awake and full of personality today. He agreed that he is the most handsome sibling out of the Browne bunch, but there was some debate amongst the other siblings. He sat up in a chair next to his bed and then went on an assisted walk around the ICU floor. We are all so happy with his progress."
Strong said Browne has five brothers and sisters.
"And hopefully he'll be discharged here soon," Strong said. "But it was touching. They called and wanted to meet. And I'm just telling you right now, there wasn't a dry eye in the joint."
Browne's family has started a GoFundMe account and more than $32,000 has been raised so far with almost 400 donations.
Strong received his EMT license from the University of Alabama in Huntsville, according to his congressional biography. He has worked as an EMT, volunteer firefighter and 911 dispatcher for more than three decades. He received the Medal of Valor for his work assisting victims of the tornado that killed 21 people and injured 463 in Huntsville on Nov. 15, 1989.
The Monrovia Volunteer Fire-Rescue and HEMSI – Huntsville's EMT and ambulance service — also responded to the scene.
"A lot of things went right that day," Strong said. "But having a young lady there that witnessed the arrest, started compressions immediately. And then, thank God, I was right there relatively close. And the Monrovia Fire Department responded quickly, applied a LUCAS device on him."
Strong also took the opportunity to advocate for CPR training.
"There's nothing that replaces someone knowing CPR," Strong said. "The chest compressions make a difference. And then when you start looking at the ability to have a defibrillator close, that enhances the chance of survival tremendously. And then you look at HEMSI responds quickly. And drug therapy as applied, transport to Huntsville Hospital. They took it from there."
©2023 Advance Local Media LLC.
Visit al.com.
Distributed by Tribune Content Agency, LLC.
McClatchy-Tribune News Service