Ala. county volunteer fire association plans high school training program
The association wants to recruit more young people to the fire service as departments across the county face a volunteer shortage
---
Benjamin Bullard
The Cullman Times, Ala.
CULLMAN COUNTY, Ala. — Even though they compose most of the response effort whenever there's a fire or callout emergency across Cullman County, local volunteer fire departments face a shortage of young new faces to replace longtime members.
That's a big reason why the Cullman County Association of Volunteer Fire Departments, in conjunction with the county school board, is hoping to get a new training program off the ground for high school students who might one day eye fire fighting not only as a volunteer service, but perhaps even as a career.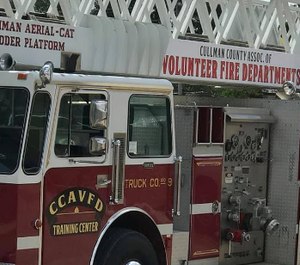 Joe Golden, who's long been involved with local volunteer fire fighting as a former Baileyton fire chief and president of the Cullman County Fire Association, says there's a critical need for new volunteers, and offering high schoolers a training program sanctioned by the Alabama Fire College can help address it — if that is, the pieces all fall into place in time for the start of the next school year.
"It's a way for us to help get new people into volunteer fire service," Golden explained Wednesday. "We're hurting in numbers, and we're hoping, in the future, this will help in boosting participation. With recruitment hurting, we're working with the county board of education to create a technical training program for volunteer firefighter 1 certification, and we're in the process of working with the Fire College as to what kind of equipment we would need to provide."
If the plan succeeds, volunteer fire training would become the newest program offered through the Cullman Area Technology Academy, the technical and vocational school at Vinemont operated by the county school board. With space at the school at a premium, Golden said the fire association would offer its classroom space, as well as its training facilities, as the venue where students would split their time away from academics to obtain their fire certification.
"We have two rooms up there that'll handle up to 40 students each, and hopefully, we'll reach the point where they'll both be full," he said, noting the coming dearth of new recruits.
"We're in the middle of a generational change for volunteer fire service," he explained. "Most volunteer fire services here were started back in the 1970s. We've all been in existence for 40 years or so now, and we're just about to that point when we're getting too old to do it."
With an eye toward keeping the current facility up to date, as well as equipping it for a potential expanded use as a student training venue, the Cullman County Commission recently appropriated $65,000 to the volunteer fire organization's training center, with the funds going to replace worn-out tiles lining the walls of the center's "burn building," which has seen repeated conflagrations over the years as hundreds of volunteers are put through the paces of simulated response training.
"That facility at Vinemont has been there since the 1990s, and those fireproof panels have just reached the limit of what they can handle, repeatedly being set on fire and put out, for years on end," said county commission chairman Kenneth Walker on Wednesday.
"We're hoping that we can help the volunteer association keep up the ongoing training that's always needed, and hopefully make sure the facility is there and ready if the new training program can get off the ground."
A formal program plan won't be in place until state and local shareholders, with support from the area's legislators, can iron out all the details — including securing instructors, establishing a curriculum, and securing additional equipment and funding. "Nothing's set in stone," said Golden. "But if all goes well, we're hoping to have it in place by the start of next school year."
———
©2019 The Cullman Times (Cullman, Ala.)
McClatchy-Tribune News Service