Volunteer firefighter pushes aside disabilities to serve
John Cutler, a 13-year veteran, was born with spina bifida and hydrocephalus, and can only move with crutches or a wheelchair
---
By FireRescue1 Staff
AMHERST, N.Y. — A 13-year veteran opened up about how he followed his firefighting dreams despite his disabilities. 
WGRZ reported that John Cutler, with the North Bailey Volunteer Fire Company, was born with spina bifida and hydrocephalus. As a result, he's paralyzed from the ankle down.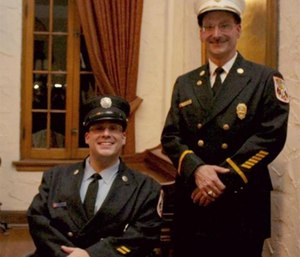 This didn't slow Cutler. He joined the volunteer fire service at age 16.
There were a few who didn't think he could do it. "They would say, 'He's in a wheelchair, he can't do it … why even try?'" he said. "Do I get looks when I get out of a fire truck with my crutches? Absolutely. But like everyone else responding, I'm there to help people."
Former Fire Chief Dave Humbert gave Cutler a chance. 
"The good thing about volunteering is that there's a job for everybody," he said.
Cutler responds to calls, but he is limited to what he can do on scene.
"I'll take the guys' air packs they breathe from and change the [SCBA] bottles. I'll take vital sings, I'll make sure they all have water … anything I can do," Cutler said. "After calls, I'll do the paperwork, call back dispatch to give the information they need."
And Cutler's advice for someone in a similar position? 
"Do something about it and take initiative," he said.