Wash. fire department ends volunteer program after nearly 130 years
The program, founded in 1891 and in recent years offering 'support' services, will close due to difficulty recruiting volunteers
---
Kera Wanielista
Skagit Valley Herald, Mount Vernon, Wash.
MOUNT VERNON, Wash. — When it was formed in 1891, the Mount Vernon Fire Department was comprised of men who were business owners, workers and neighbors.
It took 30 years and a technological revolution before the department hired its first professional firefighters — two drivers to man the department's first motorized firetruck and a chief.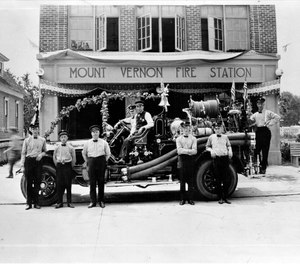 "(Volunteers) were basically the backbone of the department," said Battalion Chief Scott Horton.
Now, after nearly 130 years, a Mount Vernon tradition has come to an end as the department has discontinued its volunteer program.
"For a lot of people, it's how they got their jobs," said Horton, who headed the volunteer program. "For others, it's a way to give back to the community."
Due to cultural changes, including more personal commitments and increased training requirements for firefighters, many fire departments are struggling to recruit volunteers, Chief Bryan Brice said.
"That's the problem facing volunteer departments across the nation," he said.
As a result, the department's volunteer program is no longer sustainable, he said.
"It's unfortunate the program is coming to an end," Bryce said. "There's a lot of value in volunteerism."
For Robert Peck, volunteering with local fire departments became a way for him to continue serving his community after leaving the Navy.
"It gave me the satisfaction of being able to go out and help people," Peck said.
Peck said he has volunteered with local fire departments for 26 years. It's how he found his calling to become a nurse.
"Saving a life in the line of duty is what led me to what I do now," Peck said. "Unfortunately, some of the most memorable calls are the ones with the worst accidents."
Deb Kanske was one of the first women to join the department's volunteer force more than 12 years ago.
"It felt like a family," she said.
About a decade ago, the department's volunteer program transitioned from a traditional system — where volunteers battle fires alongside their professional counterparts — to more of a support system, where they provide water, food and health monitoring for firefighters on a scene, Horton said.
Kanske was one of the leaders of that transition. At the time, she said, not many fire departments in Skagit County had support units, which also help victims affected by fires or other incidents.
Now, most departments in Skagit County do, she said.
"Which is exciting," Kanske said.
For Mike Thompson and Terry Hill, who both spent more than four decades as professional firefighters in the department after serving several years as volunteers, being a firefighter was more than "like" family, it was family — both their fathers were firefighters with the department.
"We grew up in the department," Thompson said.
When their fathers were in the department — Thompson's as a volunteer and Hill's as an assistant chief — the first step to becoming a firefighter was to volunteer.
"We used to ride around on the calls with (our dads)," Hill said.
The department remained largely volunteer through the 1970s, Hill said.
"They gave a lot of time to the city," he said.
Now, Brice said, the department employs 50 firefighters, including himself and Assistant Chief Bryan Harris.
"We couldn't have done anything without (the volunteers)," Thompson said.
With a growing city population and an increasing number of calls, the Mount Vernon Fire Department, like most others, has to rely on its neighbors.
In Skagit County, that includes surrounding fire districts, which are mostly run by volunteers.
For Susie Johnson, becoming a volunteer with the Mount Vernon Fire Department was a dream come true.
"We were just part of the team," said Johnson, who volunteered for more than a decade. "They relied on us, and they knew we were going to be there."
When she was 18, she wanted to become a paramedic, however, she didn't meet the height requirement, she said.
Instead, she became CPR certified and taught first aid through Skagit County EMS for decades. At the age of 48, she became certified as a paramedic and the Mount Vernon Fire Department accepted her as a volunteer.
"So it was kind of like my life came full circle," she said. "It's been such a delight for me to be able to say I volunteered for the Mount Vernon Fire Department."
———
©2020 the Skagit Valley Herald (Mount Vernon, Wash.)
McClatchy-Tribune News Service