East Troublesome Fire: '15 years of experience in 1 night'
Colorado firefighters reflect on late-season wildfire that posed the ultimate challenge for the state's limited resources
---
When a wildland fire started on Oct. 14, 2020, on the west side of Grand County, Colorado, it was not the biggest news among fire managers in the state.
It was nearly the end of a historic fire season. The Pine Gulch Fire that ignited in western Colorado in late July had quickly become the largest wildfire in state history. Just months later, it was surpassed in size by the Cameron Peak Fire in Larimer County, west of Ft. Collins. At least 20 other wildland fires had burned throughout the state during the summer into the fall. Fires had closed interstates, consumed property, and required large evacuations across the state.
Still, there was real cause for concern. Severe drought conditions combined with massive fire loads of beetle kill trees in mountain areas created extremely dangerous conditions. Previous fire modeling indicated that the point of origin – East Troublesome Gulch – could be a high-risk scenario for wildfire given certain conditions. And firefighting resources throughout the state were stretched thin.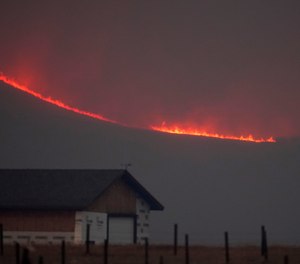 A series of calamitous events
At first, things seemed to be going well. Crews protected the only nearby housing area to the west of the fire. Although the fire grew, it remained confined to an uninhabited wilderness area. No structures had been directly threatened.
Then came Oct. 21.
That morning, Grand Lake Fire Department Assistant Chief Seth St. Germain was working on structural protection along State Highway 125. The fire was still burning well west of this barrier. Winds had been coming from the north, and most resources were focused on protecting the town of Hot Sulphur Springs, potentially in the fire's path to the south.
"But we locals were talking and saying, if we get winds out of the west, it's going to change everything," St. Germain said.
There had been little containment work done along the eastern edge of the fire. The high-altitude transport winds were blowing 60-80 mph, grounding air resources.
On Oct. 21, everything came together in the worst possible way. The winds shifted and came from the west with increased velocity. Air support was impossible. Additional resources were thin or nonexistent.
St. Germain and his crew watched as the fire jumped the Highway 125 corridor.
"There was nothing we could do about it. It would have been like trying to stop a flame thrower with a squirt gun," he said.
Still, they thought they might have time, maybe as much as a couple days, to adapt to the new conditions.           
They had hours.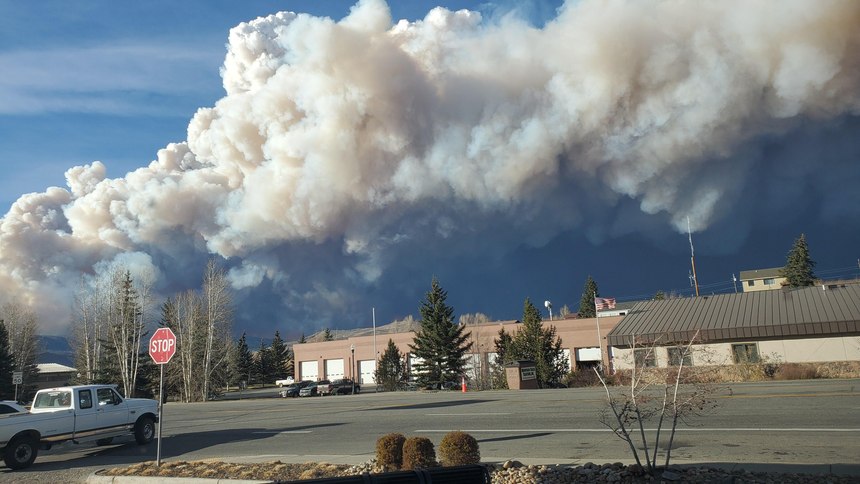 Rapid fire advancement, evacuations
The winds continued to strengthen. The fire exploded, defying topography. The fire traveled 17 miles in 90 minutes. And it was headed straight for the Town of Grand Lake.
Chief St. Germain returned to Grand Lake, going as far north and west in the district as possible to do an assessment for access, fire mitigation and evacuation.
By late afternoon, the fire had blown past established trigger points. The decision was made to send out a pre-evacuation order for the district.
Nine minutes later, a mandatory evacuation order was sent. The fire was advancing so rapidly, "we could hear it, like a jet engine," said St. Germain.
Tactical priorities were shifted to evacuation of residences in the district, which includes many short-term and vacation rentals.
Lt. Jarred Nelson was the shift officer for Grand Lake Fire on Oct. 21. He led the evacuation effort that afternoon.
"The wind was just as bad as the fire front," Nelson remembered. "Where the fire didn't hit, the wind did, it took trees and pulled them out by the roots and threw them."
Winds that day were consistently measured at over 100 mph with one gust at 157 mph.
They finished their evacuation effort just minutes before the fire front hit.
Crews spent the evening into the night fighting fires as best they could in the neighborhoods west of the Town of Grand Lake.
Nelson described the conditions as a "dirty burn" with spot fires everywhere: "We did lose a lot of structures. But we saved countless more. Supplies and personnel were very limited. For that first 48 hours, we were kind of left to do it ourselves."
During this firefighting effort, Nelson initially had only seven personnel on his team. They continued to fight fires in the neighborhood until 7:30 the next morning.
Firefighters face unimaginable conditions
One member of that firefighting crew was Carlos Vasquez, a resident firefighter who has been with the department for one year. He had finished a shift that morning, but by afternoon, "I got a knock on my door telling me it's time to go back to work." He described the subsequent hours as a "blur."
Vasquez initially assisted with evacuations, which included the entire Town of Grand Lake along with all surrounding areas. Going door-to-door, they were able to reach most homes in the area. But at one point, a decision had to be made: "We could hear the fire and see the orange glow, and we felt it was better for us to pull out so we weren't outflanked," he recalled. "If we had been outflanked by that, it would have been a very, very different story."
After the evacuation effort was complete, Vasquez was assigned to a fire suppression crew that spent the night saving homes in the Columbine Lake neighborhood. Conditions were unimaginable. At 11:45 p.m., the air temperature was 165 degrees F, but because of the wind and being wet from firefighting, Vasquez said firefighters got very cold.
"That was some wind I have never before experienced in my life," he said. "I'm from California where wildfires are a fact of life, but I have never seen anything like that. It's hard to describe. It was like a hurricane. Trees were kicked over like toothpicks."
The push to save homes
Grand Lake Fire Marshal Dan Mayer filled many roles on Oct. 21. A retired law enforcement officer, Mayer came to his subsequent fire service career after an arson investigation captivated his interest.
One of Mayer's first tasks that afternoon was assisting with the evacuation. He was assigned to put up signs along Highway 34, the only evacuation route, but "the signs were blowing over as fast as I could set them up," he said. Mayer was able to stop road construction that was still taking place despite the smoke conditions, closing one lane to traffic. "You need to get your crews off the highway, now!" he said – and they did.           
Mayer then returned to Grand Lake and joined the effort to evacuate local residents. He was part of a crew that attempted to reach the home where the only fire fatalities occurred after the residents refused the initial evacuation order. The house had burned to the foundation. "It was unsurvivable," he noted.
Later that night, Mayer was part of the firefighting team that worked to save residences in the communities west of the Town of Grand Lake. Numerous spot fires and downed power lines hindered access. Mayer drove his pickup truck past homes that were burning and realized "there was a lot of stuff we could save." The team began hitting spot fires and flames encroaching on unburned houses.
"Some of the young guys say, we were just doing what we were trained to do. But we absolutely did the opposite of what you're trained to do. It was triage firefighting. We were hitting things as fast as we could, spraying them down and moving onto the next thing. If we could knock it down, we could come back around. You invest too much time on something, everything else was going to go."
Like all others on the fireline that night, he described the conditions as "horrible": "We were all trying to look out for each other. Everybody had to be a safety officer that night."
Ultimately, there were no injuries among firefighters.
By the numbers
In less than 24 hours between Oct. 21 and early Oct. 22, the East Troublesome Fire grew from 19,000 acres to over 190,000 acres, destroying 580 structures, most of them homes. The Grand Lake Fire District lost 150 of those structures, most of them residences. There were two fatalities. The fire created a huge pyrocumulonimbus cloud that rose to about 40,000 feet in the air. Hurricane-force winds flattened trees for miles. But the Town of Grand Lake remained undamaged and many homes that were assumed to be lost were saved.
Seven first responders lost their homes to the fire. "They were rock stars, fighting fire while their own homes were burning," Chief St. Germain said.
That first night, local emergency response resources were mostly on their own – around 40 personnel available in total, including everyone on the 28-member fire department.           
The East Troublesome Fire was the second largest fire in Colorado history, but ironically, it was also one of the least financially draining because of its meteoric spread and subsequent containment just a few days later due to weather changes. Additional crews came in to fight the fire the next day, but nearly all structures lost had already burned by then. Three days later, the area was blanketed with snow.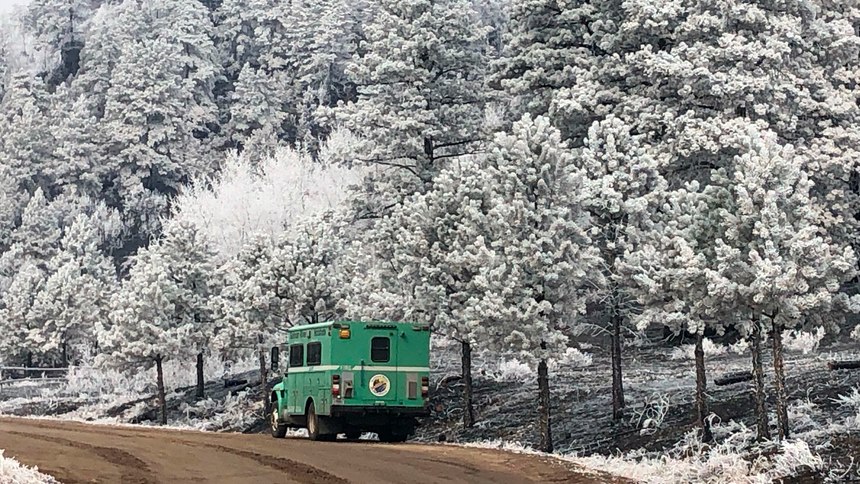 "We got 15 years of experience in one night," St. Germain said. "Everyone went the extra 10 miles that night. Since then, we've had the opportunity to heal together. It's been a once-in-a-lifetime chance to get to know one another as a fire family."
Grand County residents and emergency services continue to recover from the devastation of the East Troublesome Fire. The Grand Foundation has a fund dedicated to helping residents and first responders whose lives were changed by the fire.