Widow on firefighter's death: 'He was worth it'
Lt. Jason Adams was shot and killed on a medical call; Adams worked at the same department as his fiancée
---
Lt. Jason Adams was shot and killed while responding to a medical call at the home of Mark Pruitt. Pruitt, who has been charged with manslaughter, was suffering from a seizure. When he came out of it, Pruitt allegedly thought Lt. Adams was an intruder. Adams' fiancée, Jeannie De Meyere, is hoping to raise awareness for the struggles volunteer fire departments face by setting up a memorial fund in honor of Lt. Adams.
By Jeannie De Meyere
Jan. 22 was the day my life changed.
In a heartbeat, what had been a life full of promise and hope for the future became dark and bloated with despair.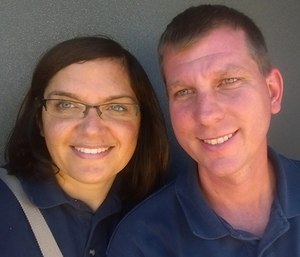 It was the day my fiancé, Lt. Jason Adams, was shot and killed on a medical call.
A thick layer of snow had blanketed the ground that night, a rare occurrence in Arkansas, and Jason had decided he would drive me to work that morning. As I rose from the bed, the pager for our volunteer department, East Pulaski County Fire Department, went off.
A man was reportedly having a seizure just half a mile from our house, a neighbor Jason knew because we had recently purchased a house in the neighborhood where he grew up.
Jason recognized the address and leapt out of bed.
Little did I know as I watched him pull on his jeans, department shirt and uniform jacket that it would be the last time I would see him.
Jason was a firefighter to the core. If he wasn't physically doing something fire department related, rest assured he was thinking about it. Whether it was contemplating a new method of training or how he could make a piece of equipment fit on an engine, he was thoroughly addicted.
Jason and I met through the fire service and quickly became one of those inseparable couples. We both ended up being hired by Sherwood Fire Department, I am on B-Shift, he was on C.
We were promoted to lieutenant on the same day and attended many classes together, often ending up in different groups during practical exercises. Being in different groups was something I secretly loved because it gave us a lot to talk about on the drive home.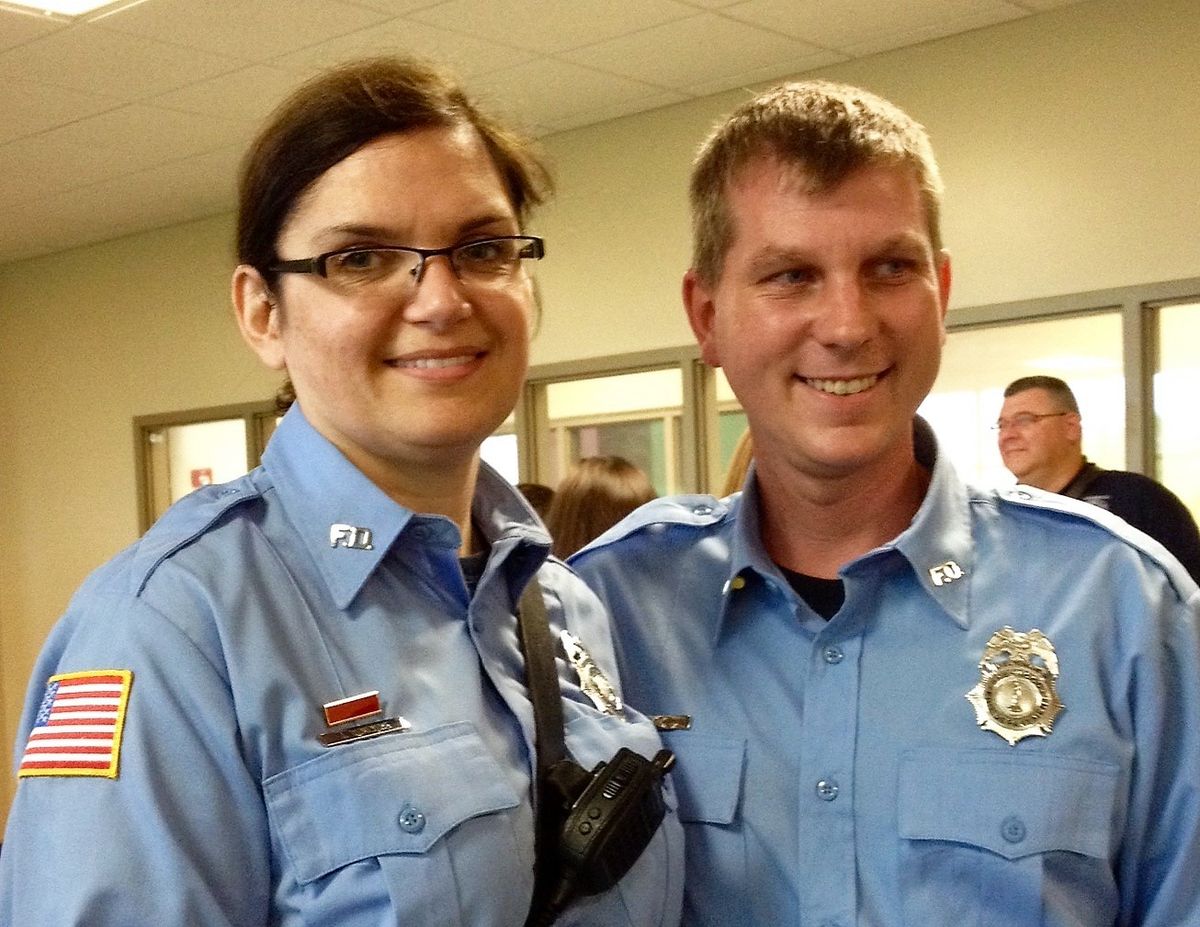 Jeannie and Jason after being promoted to lieutenant. (Courtesy photo) 
Frantic calls
At the hospital that fateful morning, faces both new and familiar began to appear. Chiefs and officers from local departments hugged me and offered words of condolence.
As the news spread, I had the horrible task of answering the frantic calls from Jason's family and informing them of his death. This was something I had done countless times in my decade as a paramedic. It had now, impossibly, become exponentially worse. After we spoke with detectives and the coroner, it eventually became time to leave the hospital.
I returned to our home. The house had already taken on a chilling feeling of emptiness. Jason's pajama pants lay in a crumbled heap at the foot of the bed. Our two dogs, Booster and Maggie, sensed something was wrong and paced nervously. After taking several showers and wandering around the house in a daze for a few hours, I loaded up the dogs and went to the station.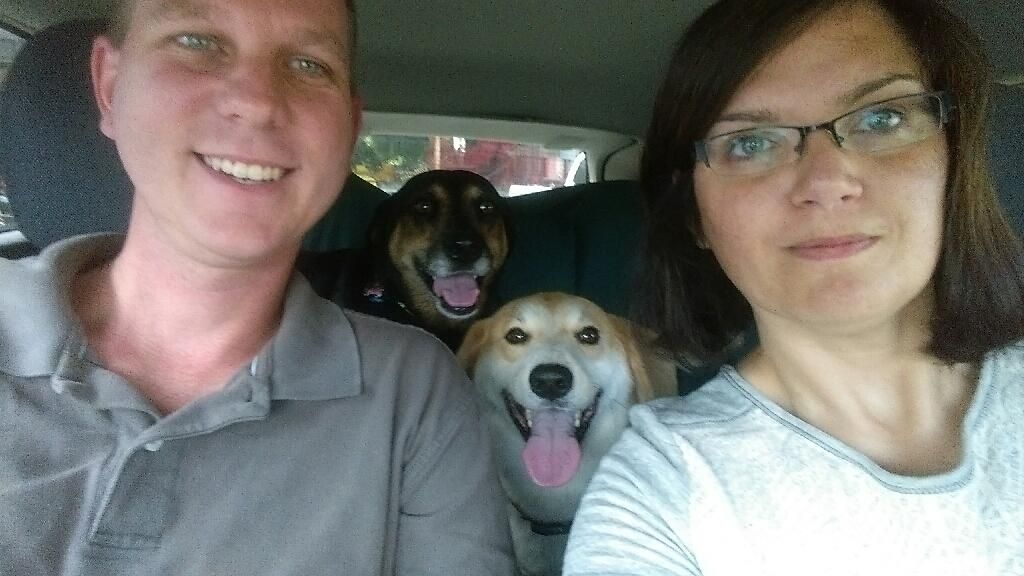 Jeannie and Jason with their dogs, Booster and Maggie. (Courtesy photo)
The next hours, days and months are a blur in my memory.
Jason had an incredible funeral attended by approximately 2,000 people that included firefighters from near and far. The procession, consisting of 88 fire apparatus, reached almost the entire distance from the church to the cemetery. Helicopters flew overhead and bagpipes played as the final page for Lt. Jason Adams sounded over the radio.
Award ceremonies followed with Jason's service and sacrifice being honored by both state and local organizations. I faithfully attended the ceremonies to accept the awards, each left me feeling both incredibly humbled and awe-struck by the love extended to me by our community and fire department brotherhood.
In February, I was invited to the opening ceremony at FDIC in April. I traveled to Indianapolis with two captains from my fire department, feeling both excited and heartbroken. Jason and I were supposed to attend FDIC together this year.
During the opening ceremony, after many inspiring awards and stories of triumph and sacrifice, I was asked to stand up. I stood as asked, alone in a sea of seated firefighters, as a presenter spoke about what happened that day. I have never felt such an urge to run out of a room as I did the moment all eyes were fixed on me.
Work has been difficult
As I attempted to hold onto some sense of normalcy those first months, I made mistakes. I wasn't kind and patient with myself. Like most firefighters would, I went back to work too soon.
I took on too much and ended up having to step away from obligations as I came to the realization that I was now just one person trying to fulfill the responsibilities of two. I failed to fully grasp how my life had changed and the new, unfamiliar person I had become in the aftermath of the traumatic loss of Jason.
Work has been the most difficult adjustment for me. The urge to call Jason after a "good" call or fire has mercifully subsided. I've finally overcome the habit of checking my phone throughout the day to see if Jason has called or sent me a text.  
My mind still conjures up conversations we had as I enter run reports, and I miss him desperately. When everyone disappears to call their loved ones around 2030 and bid them goodnight, I can't help but feel a deep loneliness and sense of loss.
People speak of moments following the loss of a loved one when the spirit of that person seems to be near or influence events. I have had several of those moments since Jason left us, but one event sticks out above all else.
On the afternoon of Jan. 25, three days after Jason was killed, I was sitting in the passenger seat of Sherwood Fire Department's battalion truck. It was unseasonably warm that day with temperatures in the 60s, strange considering we had just had snow three days earlier.
My battalion chief, Chief Jodie Hartman, a close friend of Jason's and his former captain, was driving. It was my normal duty day and I had come into work for a few hours so Chief Hartman could assist me with the funeral arrangements.
We had just finished up finalizing the plans for the procession and burial services at the cemetery and were leaving the cemetery grounds when I noticed the one thing that makes the heart rate of all true firefighters increase — a plume of thick black smoke.
It was coming from an area at the very edge of our fire district. I pointed toward the smoke and managed to say, "Hey, look at tha …," before my words were cut off and I was pressed hard into the seat from the force of the battalion truck accelerating. I was pitched forward and pressed hard into the seat again as we tried to locate the source of the smoke, thankful for the protection of my seatbelt.
A few moments later, we pulled up to a fully involved abandoned structure, located on the corner of a gravel road. Chief Hartman, broad shouldered and his feet several sizes larger than mine, offered me his gear as I swore in frustration.
I laughed at the thought of attempting to fight fire in his turnouts. As I did a 360 of the structure and Chief Hartman gave the incoming apparatus arrival instructions on the radio, I made contact with the panicked residents of an adjacent structure and assured them that everything possible would be done to protect their home. 
When there was nothing left for me to do, I stood in front of the structure, listening to the sound of fast-approaching sirens. The fire raged on and the wind pushed the heat and smoke away from me, giving me a full view of the flames. I stood there, in uniform with nothing but a radio in my hand, longing for my gear that was tucked carefully into my locker at the station.
I shook my head and smiled up at the sky, knowing the delight Jason would have in teasing me like this because I love to fight fire more than anything else.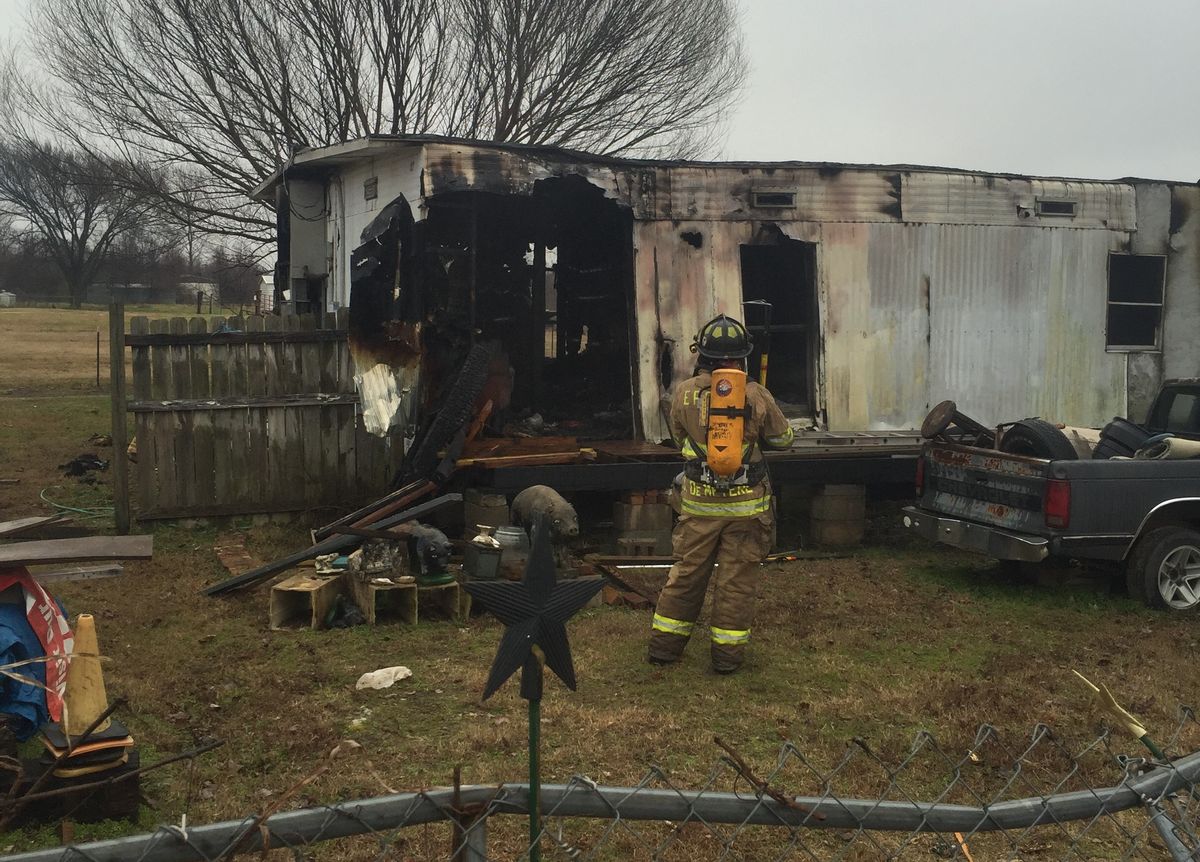 The last picture Lt. Jason Adams took on his phone of De Meyere from a structure fire they fought together the day before he died. (Courtesy photo)
Finding the strength
There have been so many women who have approached me in the recent months to tell me how strong I am and how amazed they are with the way I've handled this situation. I don't know any other way to be.
I am just Jeannie and I honestly don't know what the expectation is regarding the behavior of someone who has suffered this type of loss.
What I do know is that tears threaten at every moment. Even my uniform, normally my suit of armor, cannot protect me from the despair that lies within.
But I push the pain down deep and drive forward. I cannot allow this to beat me. I will continue to live and discover this new life, a life without Jason, as difficult and daunting as that may be.
The challenges lurk around every corner and things as simple as decorating the Christmas tree, one of Jason's favorite activities, have become a very emotional affair.
The wound I have suffered has no hope of ever healing completely. The pain is unreachable and there is no remedy, no words of comfort that can ease the agony I carry in my heart. Part of me also died on that day in January.
I went to see the movie "Arrival" a few weeks ago and, without giving away too much of the plot, a question was posed to the viewer in the final scene.
Essentially, it asked, "If you had to do it all again, knowing the outcome beforehand, would you?"
My answer, without hesitation, is yes.
He was worth it.