Support continues for Pa. firefighter whose family was killed in fire
Several fundraisers seek to help Harold Baker, who lost 10 family members in the August blaze
---
NESCOPECK, Pa. — Tragedy upon tragedy has unfolded for Firefighter Harold Baker, his family, his Nescopeck Volunteer Fire Co. coworkers and their community.
On Aug. 5, 10 members of the firefighter's family died in a house fire. The deceased include three children, who are Baker's grandchildren, and seven adults, including Baker's son and daughter. Three adults escaped the burning home.
Then, a little more than a week later, another tragedy occurred at a fundraiser for Baker's family. One person was killed and 17 others were injured when a vehicle plowed into a fundraiser for Baker's family. Adrian Oswaldo Sura Reyes, 24, was taken into custody and admitted to driving into the fundraiser location, a bar and restaurant called Intoxicology Department.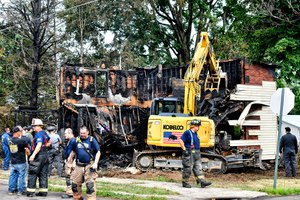 "This is crazy. I didn't even bury my kids yet," said Baker, sharing that other family members of his were hurt when the vehicle ran into the crowd.
Trooper Anthony Petroski, spokesman for the state police, told The Citizens' Voice: "This is a complete tragedy in a community where there already has been tragedy."
Fundraisers continue
Money raised from the Intoxicology Department event and $32,690 from an online fundraiser have been earmarked for Baker's family.
The Nescopeck Borough Volunteer Fire Company accepted clothing donations for the family as well.
Community members gathered for another benefit in August at Taps Sports Bar. Raffle auction funds went toward victims of both incidents, ABC27 reported.
Additionally, people filled the Beach Haven Carnival Grounds on Sept. 4 for another community-organized fundraiser for the Nescopeck fire victims. There were raffles, vendors and food, according to WNEP.  
"We were all there at the calls that we had in Nescopeck and in Berwick, and this is our way of giving back to the community," said Timothy O'Brien, West Berwick Fire Company second lieutenant.