My love affair with 2 buildings: Remembering the WTC on 9/11
From riding the WTC elevators as a kid to responding to Ground Zero and all the connections along the way
---
By Billy Denis
It all started in 1966. I was 10. My dad took the whole family – my mom, brother, aunt, grandma and I – to Manhattan.
Dad worked for the Port Authority at the bus terminal, but this trip was to go to a party celebrating the groundbreaking for the World Trade Center. They had a model of what the buildings would look like, and my grandma and I got to be photographed with a Polaroid Land camera. I thought it was incredibly that you only had to wait 60 seconds before the black and white photo developed.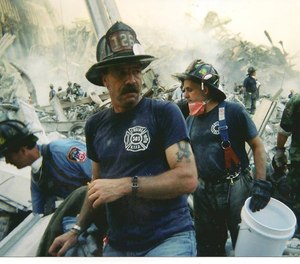 After the Towers were finished, I'd visit them often. My brother and I would sneak onto the trains and head into the city. We'd take the elevator to the higher floors just to look out the windows in the hallway because we couldn't afford to go to the observation deck.
In the early-1980s, I had bought a new Canon camera and took my 8-year-old nephew, Robert, to the city to try out my new camera downtown by Battery Park. We walked over to the Trade Center, and I had him stand on top of a garbage pail and look down while I laid on the floor to shoot him and the Towers rising above his head. People looked at us like we were crazy, but those photos were so cool, with the Towers looming over his back.
In the mid-1980s, a girl I was dating had to work until 7 p.m. on New Year's Eve, so her job got her a hotel room in the Vista Hotel. We envisioned amazing views from high in the building, but the funny thing is the buildings were 110 stories and our room was on the third floor.
On Feb. 26, 1993, a bomb went off in the sub-basement parking lot of the WTC under the Vista Hotel, killing six people. Four of those six people had worked with my dad as operating engineers.
I went on a blind date in December 1993, meeting this girl named Cathy outside of 10 Engine & 10 Truck on Liberty Street, in the shadows of the Towers. She worked for American Express in the World Financial Center across the street from the WTC. We went to lunch at Houlihan's and both had a nice time. I walked her back toward her building, and the first time I kissed her was in the walkway that went over West Street and connected the WTC to the Financial Center.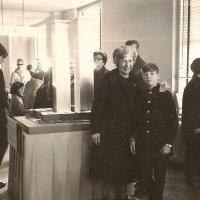 While we were dating, I was a fire marshal doing arson investigations. One day my partner asked me if I wanted to have lunch at the WTC. I told him my girlfriend worked across the street, so he said call her. We met her and he took us to the employee cafeteria, which was, if I remember right, on the 86th floor. A full tray of food costs around $8, which is super cheap for Manhattan.
I married that girl in 1995, and we're still together.
On the morning of September 11, 2001, I was with 15 guys from my firehouse playing golf at Spring Lake. While paying my green fees, a guy came into the pro shop saying a plane hit the World Trade Center. I went into the bar area to check the TV. We were all concerned, but like everyone else, we thought a Cessna or helicopter crashed, so we went ahead and teed off.
When we got to the third hole, my friend on hole #2 started screaming across the course. "We're at war, the second Tower was just hit."
I couldn't quite make out what he was saying, but just then a guy from the pro shop came over a hill waving his arms for us to come over to him. He said the firehouse just called, and there was a total recall of all off-duty member to report to their firehouses.
One of my bosses told me not to go in because I had just retired five days before because of lung issues and didn't want me to be seen on camera working.

I got home and watched on TV as the Towers fell to the ground. Once that happened, I didn't care anymore what my boss had told me.
Back in 1981, we had to buy and maintain all of our fire gear, and in the mid-90s, the FDNY changed things and started supplying us with new bunker-style gear. Since the old gear was ours, I just kept it in my basement.
I came up from downstairs with my turnout coat, boots and helmet under my arms, and my wife asked where I was going. She said she promised my parents in Florida that she would not let me go in; she was afraid of another plane coming to attack NYC. I sat on the couch for a while with my gear in a pile by the door. I couldn't stay away. I had to go. Cathy understood, kissed me goodbye and I left for the city.
I got to my firehouse in Jamaica and jumped into the back of Timmy Kilarney's pickup truck, and into Manhattan we went. We arrived just before sunrise, and I will never forget the sight I saw as we emerged from the tunnel under Battery Park onto West Street and seeing the Towers were gone.
I will not go into details about my first 2-3 hours there looking for survivors, only to find body parts.
I had left my harness in Timmy's truck and needed to be lowered into a crevice to search for people. While walking back to the site, I saw a New Jersey police officer and asked her to snap my photo in case I didn't make it out alive. She mailed it to me about two weeks later.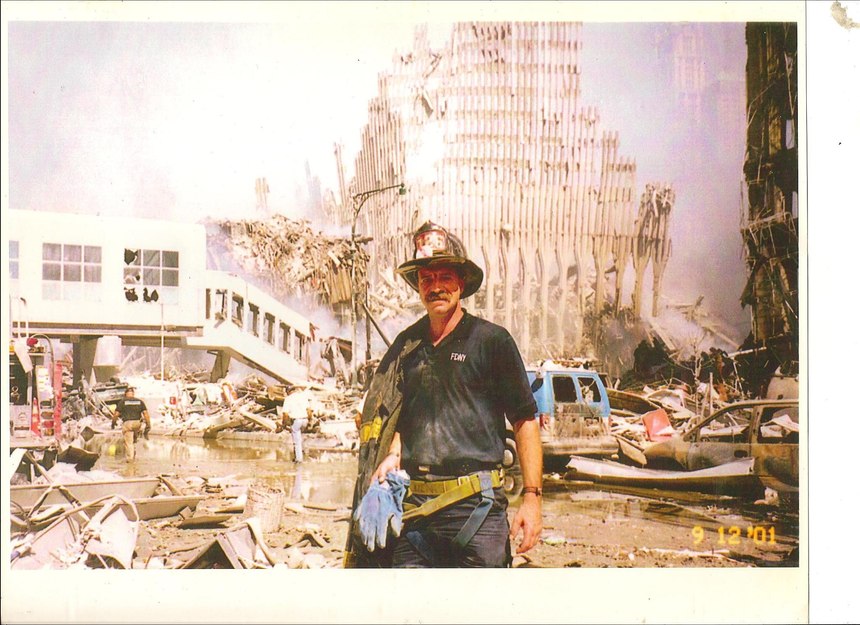 I worked the site for five of the first six days and then started going to the funerals. That was worse than digging.
Every morning I'd wake up, sign onto the computer and see where I was going that day. There were times when I had gone to three funerals or memorials in one day. This went on for at least 4-5 weeks, every day.
In 2002, we started having mass inside our firehouse and then in the church around the corner, but that stopped in 2018.
Last year was the first time I'd been to the WTC on 9/11. I plan on riding in again this year.
I was there the day before they went up and there the day after they came down.
Aside from losing 343 brothers, of which 17 were close personal friends, I lost part of my soul that day.
Rest in Peace and NEVER FORGET!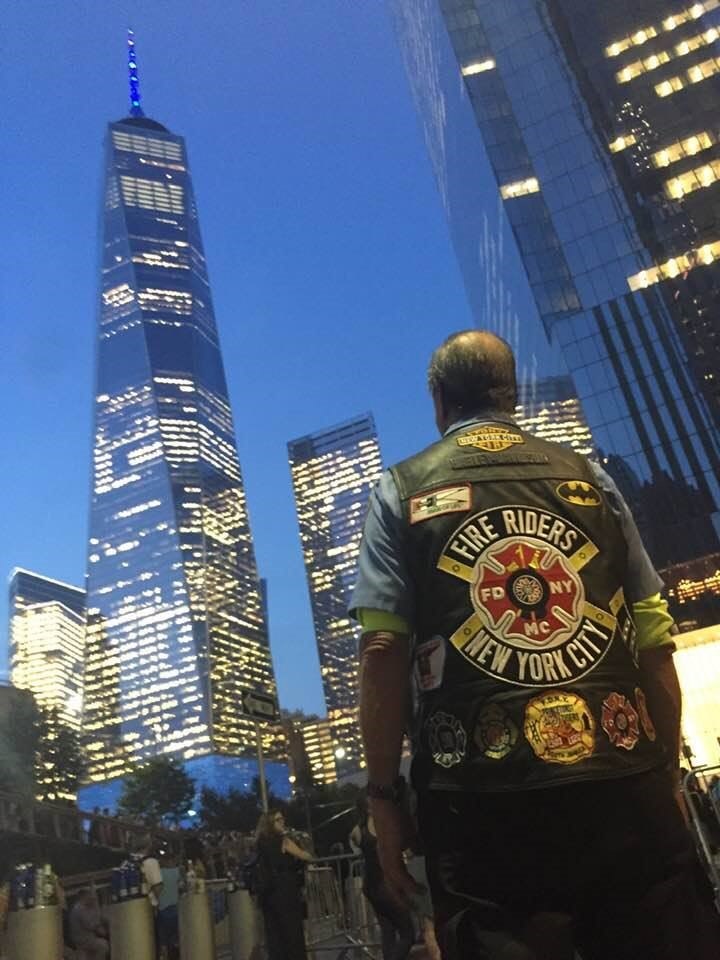 About the Author
William G. Denis (aka Billy Bingo) began his fire service career with the FDNY in 1981, assigned to Engine 302, later Ladder 126. He was promoted to fire marshal in August 1993. He was awarded three citations for bravery and The Christine R. Godek Medal for his work as the lead investigator on fire that claimed the life of Lt. John Clancy on Dec. 31, 1995. After 20 years of service, Denis retired on Sept. 6, 2001 – five days before the 9/11 attacks – but still went to Ground Zero to help with search efforts.