Officials: 911 clogged by non-emergency calls after Hurricane Irma
"We can't help the people who are truly in need when we keep having to deal with people who are minorly inconvenienced," Fire Capt. Jason Sellers said
---
By Alexandria Glorioso
Naples Daily News 
COLLIER COUNTY, Fla. — Collier County residents recovering from Hurricane Irma tied up emergency dispatch units Monday with non-emergency problems.
A woman living in Glen Eagle Country Club in East Naples called 911 because a fire alarm went off in her complex and a water sensor blared in her kitchen.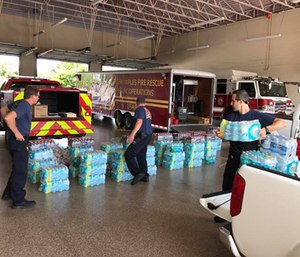 Capt. Jason Sellers and two firefighters were dispatched to the call just before 3 p.m. Monday. The fire alarm was a bust.
Since the power went out after Hurricane Irma, Sellers said alarms with drained batteries are probably going off all over the county. And residents call 911 because they don't know how to turn them off.
"Everybody's getting tired and people are starting to abuse the system," said Sellers, 46, Monday. Sellers is with Ladder 72 of the greater Naples fire district.
"We can't help the people who are truly in need when we keep having to deal with people who are minorly inconvenienced," Sellers said.
Later Monday, Sellers and his team were dispatched to a caller on Collier and Beck boulevards. The man was smoking a cigarette, sitting at the end of the intersection's median, when they pulled up. He said his arm was sore from getting hit by a trash can during the storm.
Firefighter Paul Pernak, 43, checked his vitals and helped him into a local ambulance.
A line of ambulances from Georgia, Alabama and Tennessee pulled up to the intersection's light, presumably to help with emergencies from the storm.
On their way back to the truck, Sellers heard from a Florida Highway Patrol officer who had just gone down the street to check on a man in a wheelchair. The man wasn't injured but wanted a ride back to his trailer on Beck Boulevard.
"It's free to call us," Sellers said. "It's frustrating but not surprising."
Copyright 2017 Naples Daily News