5 academies aspiring firefighters should check out
If you want to become a firefighter, you might consider these top fire academies
---
Watch the four-part video series about how to become a firefighter, explaining what you can expect from a career in the fire service as you navigate the path and complete the critical steps along the way.
By Chris Meyer, FireRescue1 Contributor
Firefighting jobs are getting more competitive every year. As an aspiring firefighter, you want to be certain you get the best possible preparation before you start applying for jobs. And depending on the area you'd like to work in, finding the best fire academies can be a tough task. 
That's why we've compiled this list of the five most searched academies for firefighters in the United States.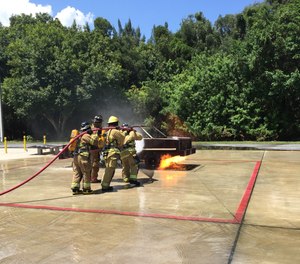 Before we dive into the specifications of each academy, it's important to recognize that the market for firefighters is different than the market for a traditional job applicant. That's because the fire departments you're applying to may have different preferences and requirements for their prospective hires.
For example, let's say you want to apply for firefighting jobs in Alaska. While you might find a great academy in Florida, the training you receive in Florida might not be as relevant to Alaska as training you might receive in Alaska. That's why, if you know where you're going to apply, you should always research specific department requirements before evaluating schools.
That said, if you're not sure where you want to apply and you have flexibility in location, it could prove useful to attend one of these five fire academies.
1. Ohio Fire Academy
Ohio Fire Academy is the only academy in Ohio recognized by the International Fire Service Accreditation Congress and Pro Board. The Ohio Fire Academy also offers online training for individual firefighters and departments to further their education.
Requirements to enroll
Meet requirements outlined by OAC4765-20-02
Take and pass the COMPASS Test or have taken a COMPASS Test within the last two years. Previous SAT or ACT scores or a college degree may be eligible to be used as a substitute for taking COMPASS. 
High school diploma or equivalent
Submit FBI/BCI background checks
Students must undergo a medical evaluation by a physician that meets the requirements of the NFPA 1582: Standard on Medical Requirements for Firefighters
Valid driver's license
Proof of medical insurance
Complete National Incident Management System NIMS IS-100.b and NIMS IS-700
Cost
$1,550 (not including dorm and gear fees). Students are responsible for providing turnout gear and course textbooks. Self-contained breathing apparatuses are available for rent.
Length of program
360 hours, 40 days. Runs weekdays from 6 a.m. to 5 p.m. with multiple evening sessions scheduled. 
2. Coral Springs Regional Institute of Public Safety
The Coral Springs Regional Institute of Public Safety is an accredited training center, recognized by the State of Florida as the Training and Educational Provider of the year 4 times (2007,2011, 2013, 2017). Coral Springs offers numerous courses for individuals seeking a career as a firefighter, EMT or paramedic. The institute also offers Driver, Officer and Truck/Engine Company Operations classes.
CSRIPS offers three different academy schedules for Firefighter I & II, six times a year.
Requirements to enroll
Entrance Physical Ability Test (e-PAT) — mandatory requirement, prior to registration for Firefighter I & II
Paramedic or EMT license or certificate of completion for EMT or EMR
Medical exam
Tobacco affidavit
Florida driver's license
Diploma (high school, college, transcript or GED)
Background check
Cost
$3,412.35 for tuition, registration, supplies and uniforms.
Students are required to purchase books. In addition, students must rent or purchase bunker gear, boots, hood, helmet and gloves.
Accepts veterans benefits, Florida pre-paid, Florida 529, Sallie Mae & Scholarships
Length of programs -- 496 hours
Full-time: 15-17 weeks, 5 days/week Monday-Friday, 8 a.m. to 5:00 p.m.
Part-time: 35-37 weeks, Tuesday and Thursday from 5:30 p.m. to 10:30 pm and Sat. 8 a.m. to 5:30 p.m.
Part-time accelerated: 23-25 weeks, Monday, Wednesday, Friday from 5:30 p.m. to 10:30 p.m. and Saturday 8 a.m. to 5:30 p.m.
Success Rate
84% of students graduate the program. 99% receive a state license on their first attempt.
3. Broward Fire Academy
Broward Fire Academy in South Florida offers Firefighter I and II programs. The program meets the requirements of the Bureau of Fire Standards for firefighters. They offer both night and day classes.
Requirements to enroll
Must be at least 18 years old, earned a high school diploma from a regionally accredited institution (or equivalent)
Take and pass the TABE (if applicable)
Have a current BLS Healthcare Provider (CPR & AED) card
Must have completed EMT
Must have a current BFA physical agility test on file
Cost
Day Class: $2,129*
Night Class: $2,149*
Students are required to purchase books, uniforms and supplies, including bunker gear, boots, hood, helmet and gloves.
*In-state tuition. Out-of-state tuition is slightly higher. To receive resident tuition, your legal residence must be issued or filed 12 months before the first day of classes.
Length of program and course schedule
398-hour course offered as full-time and part-time.
Full-time schedule is Monday through Friday, 7:00 a.m. to 5:30 p.m. and takes approximately 3 months. Part-time is Tuesday and Thursday 5 p.m. to 10:30 p.m. and Saturday 7 a.m. to 5:30 p.m. and takes approximately 6 months.
4. TEEX, also known as Recruit Fire Academy
An extension of Texas A&M, TEEX offers a 12-week traditional academy program and an online academy with a four-week boot camp onsite at Brayton Fire Training Field. After finishing the course, cadets are eligible for IFSAC and Pro Board certifications in Firefighter I and II. Their programs meet or exceed most state requirements. TEEX does not offer housing.
Requirements to enroll
Must be 18 years of age or older
High school diploma or GED certificate
Valid motor vehicle driver's license without pending actions of suspension or revocation
Physical and Proof of Meningitis vaccination within last five years
Cost
Traditional Academy and Online Academy both cost $5,400
Length of program and course schedule
500 hours
The traditional Academy is a 12-week program held at Brayton Fire Training Field. The online academy allows scheduling flexibility through online training followed by a 21-day boot camp at Brayton Fire Training Field.
5. Seminole State College Fire Academy
More than 90% of Seminole State fire science students have achieved certification on the first attempt at the state exam. A course grade of 80% is required to successfully complete the class and receive Firefighter I & II certification in the State of Florida.
Requirements to enroll
Complete or be enrolled in a State of Florida EMT program or EMT/Fire combined program. Successfully complete EMT program prior to the start of the Fire Academy term
Attend a mandatory information session
Submit application (obtained at info session)
Attend mandatory orientation session, held two to three weeks after application deadline
More information provided at info sessions
Cost
$3,000, includes course fees, textbooks, supplies, bunker gear rental, a physical exam, and state of Florida bureau of fire standards and training fees
Length of program and class schedules
450 hours, 22 weeks
Day Classes: Monday and Wednesday 8:30 a.m. to 5:30 p.m.
Night Classes: Monday – Thursday 6 p.m. to 10 p.m. Saturday 8:30 a.m. to 5:30 p.m.
Advanced education options
The National Fire Academy wasn't included in this list because it's not a traditional fire academy in the sense that it only offers advanced education. That said, for mid- to senior-level firefighters, the National Fire Academy is a great resource for further learning that offers classes all over the country and online. The FireRescue1 Academy is also a great resource for NFPA-based training and CAPCE accredited EMS courses. 
You give yourself the best chance of success by attending a fire academy in the location you plan to apply. However, this list of top schools should at least give you an indication of what features and course offerings to look for in a fire academy closer to your desired work area.