Fla. firefighters get creative to rescue duckling
Crews used a Halligan bar, sledge hammer and other tools to access the duckling trapped in a storm drain
---
Ryan Ballogg
The Bradenton Herald
BRADENTON, Fla. — A brood of ducklings ran amok in a parking garage in downtown Bradenton on Wednesday with no sign of mama or papa duck in sight.
The ducks were quickly caught and taken to Wildlife Education and Rehabilitation Center Inc. on Bradenton Beach for care.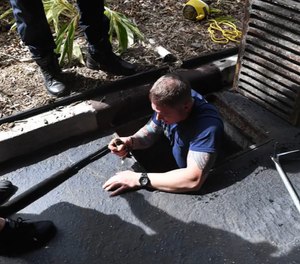 But chirps emanating from a storm drain in the garage soon alerted passersby that one of the babies had been left behind.
Firefighters with the Bradenton Fire Department proved to be the silver lining of the storm drain stowaway's day.
An engine from Station 1 arrived at The SunTrust building, located at 1001 Third Ave, W., and firefighters set at work to remove a heavy and badly rusted grate that stood between the baby bird and freedom.
Using a Halligan bar, a sledge hammer and other tools, the firefighters pounded, pulled and pried as the duckling let everyone know that it was still inside with an occasional cheep.
Once the grate came off, fireman Brad Bischoff pulled on boots and lowered into the subterranean passage. But the duck was inside of a pipe too narrow for a person to enter.
That's when the firemen had to get creative. They whistled, tried to reach the duckling with long tools and even procured a sub roll from a nearby Jimmy John's restaurant to try to entice it out of hiding with bread — but the bird wasn't taking the bait.
They were eventually able to steer it to another nearby sewer opening by making loud noises above ground. Another grate was pried up, and down went a second firefighter. He emerged seconds later wearing a smile and with the elusive baby duck in hand.
"It's not unusual," said fire Lt. Jim Reynolds, who has participated in many animal rescues in his 24 years of firefighting. But the firefighters said that saving dogs and cats is more common than unlucky ducks.
The duckling was transported to Wildlife Inc. on Wednesday afternoon. There, it was met with a chorus of chirps as it was reunited with its hatch mates.
Ed Straight, who runs the rescue with wife Gail, identified the ducks as Muscovies. Brown and yellow as ducklings, they grow up to have red, leathery patches of skin on their faces and a wide range of plumage colorings.
Straight said that Muscovy ducks are notorious for picking unfortunate nesting spots, and the wildlife rescue takes in orphaned babies almost every spring. And because they are a non-native, introduced species, they cannot be released into the wild once captured.
They can be kept as pets, however, and Straight said that someone had already expressed interest in adopting the brood.
———
©2020 The Bradenton Herald (Bradenton, Fla.)
Visit The Bradenton Herald (Bradenton, Fla.) at www.bradenton.com
Distributed by Tribune Content Agency, LLC.
McClatchy-Tribune News Service