Exclusive: Firefighter says death of fire chief 'was my responsibility'
Firefighter Patrick Cullum discusses the pain and lessons from an incident that killed Chief Kenneth Lehr and his desire to honor his mentor and friend
---
Firefighters bear witness to tragedy. It is part of the job. Solace is often found in the idea that others might learn from our very worst moment and prevent a future tragedy from happening.
The recent death of Medora (Ill.) Volunteer Fire Chief Kenneth Lehr was such a tragedy, and it seized headlines across public safety media. A seemingly inexplicable and senseless incident, it provoked emotion and strong reactions from many.
As often happens with such incidents, the immediate reaction by some was to find someone to blame. In the case of Chief Lehr's death, that person was Firefighter/Engineer Patrick Cullum, who drove the truck that killed his chief.
"If just one death can be prevented then something good will have come from this incident," Cullum told FireRescue1 in an exclusive interview about the incident, the aftermath and how he's coping with the tragedy.
The incident
On the afternoon of Feb. 5, a landing zone (LZ) was set-up to a fly a patient with a significant injury to a trauma center. This LZ was deemed unsuitable and a second location was selected approximately one mile away. Cullum drove the fire engine from the first LZ to the second.
Chief Kenneth Lehr is believed to have ridden the engine's tailboard, unknown to Cullum, between the two landing zones.
As Cullum, 47, pulled the fire engine off the highway in the area being established as the second LZ, he visually located nearby personnel and took note that they were 10 to 15 yards away.
In the seconds between stopping and the putting the fire engine in reverse, Lehr either fell or stepped off the engine's tailboard. He was run over by the reversing truck, and was pronounced dead at the scene.
Bearing responsibility
Cullum says he will regret for the rest of his life not taking 10 more seconds to find a spotter before reversing the fire engine.
"Someone notified me that Chief Lehr had been on the back of the truck and fallen under before I could stop," said Cullum. "It was not an accident. It was my responsibility to ensure a safe truck."
Cullum, from his life and military experience, believes it is human nature to assign blame. Even though he doesn't know why the chief got on the back of the truck, potentially while it was moving, Cullum is accepting responsibility for his role in the incident.
"This was not an accident. It was an incident," said Cullum. "In an accident there is nothing that could have been done to change the outcome. An incident, even when the outcome is tragic, could have been prevented."
Cullum said that as the engineer, it was his responsibility to make sure the engine was safe.
"I failed in that respect and I also failed my fire department brothers and sisters worldwide," he said.
Learning from LODD and near miss incidents
Firefighter Close Calls, NIOSH line-of-duty death reports, Firefighter Near Miss reports and other training materials are created and distributed to help emergency responders learn from past incidents and avoid repeating those same incidents.
Asking questions about an incident – why, what, where, when, and how – are part of the investigative and learning process.
When asked about his initial response to an EMS1 editorial questioning how the incident occurred, Cullum clarified.
"It wasn't the questions EMS1 asked," he said. "The questions need to be asked, but they need to be asked with more knowledge of the incident and what happened."
The preliminary state police report and early news reports of the incident were thin on specific details about the patient's injuries, the request for an ambulance, the departments that responded, and where the landing zones were located.
Those details will likely be clear in the final OSHA report.
Loss of a friend and a department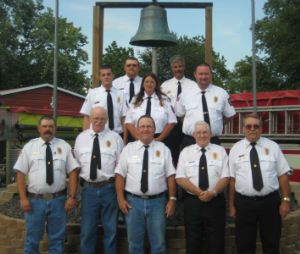 Medora is small community. Members of Lehr's family asked Cullum not to participate in the funeral and also asked him to resign from the department a few days after the incident.
He honored both wishes. 
As the department's training officer for the last five years, Cullum worked closely with Chief Lehr.
"Kenny was a friend, mentor, chief, and surrogate father figure to me and many others on the department," he said.
"We had our disagreements, but we always worked through those disagreements. That is part of being in a volunteer fire department. You have debates or arguments and then you move on to share a beer together."
Grief and post-incident stress
Grieving is a process unique to each person experiencing a loss. As a Navy veteran and firefighter, Cullum has seen death and dismemberment before, but sleep is not coming easily to him.
"When I close my eyes, I see all of the incidents behind my eyelids," he said.
"I have seen this before. I know we need to prepare for the worst and hope for the best."
Cullum has been surprised by the thoughts that have come into his mind as he's grieved the loss of his chief.
"I won't see Kenny at the pork chop dinner (an annual fundraiser for the department)," he said. "This was a fun event for me and all the guys. A vision of Kenny and the assistant chief standing at the grill popped into my mind, for no particular reason, a few days ago."
His experience underscores a truth about dealing with traumatic encounters: stress management is unique to the individual.
"I can only speak for myself," Cullum said. "I can't speak for the other guys on the department. Talking about the incident is helping me."
Support from the fire service
In the days since the incident, former fire department colleagues, his pastor, and many friends have visited Cullum at his home.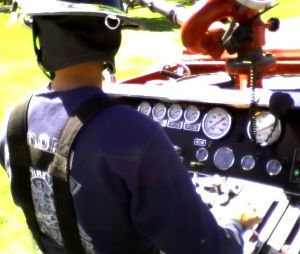 "I have not been alone," said Cullum. "This is hard for me and everyone. I pray to God to give me the strength I need."
Support for Cullum has extended beyond his own department, as several within the fire service have reached out to him. One retired fire chief in particular has been helpful, Cullum says, in sharing his own experience of dealing with a line of duty death at his department.
They are currently collaborating on a lesson or presentation they might give to other departments to help prevent a similar incident from occurring.
OSHA has interviewed Cullum and others about the incident. The final report has not yet been released. Cullum approached the interview knowing the investigators had a job to do.
"I did my best to be truthful about what I saw and did. The investigators were gracious in the interview and looked at the incident from all angles," said Cullum.
Hopeful that others will learn
Cullum is not the first and he will not be the last emergency responder to reverse a fire engine or an ambulance without a spotter.
"All of us have from time to time assumed it was OK (to back up) and got away with it," said Cullum.
Backing without a spotter is an example of normalization of deviance by emergency responders, similar to failing to wear a seatbelt or being distracted while driving an emergency vehicle.
Over time, when negative consequences do not occur, unacceptable practices become acceptable. A series of near misses does not change the risk of a fatal backing incident.
"My hope is to prevent another needless death by sharing with others that 10 seconds is enough to save a life," Cullum said. "This incident, maybe, can be a tragic learning tool and I will not have completely failed my mentor and friend."