Fire truck catches fire at Ill. fire station
Crews at the station found heavy smoke inside the front bay and were able to start the truck and pull it outside away from the other equipment
---
By Kaley Johnson
Belleville News-Democrat
CAHOKIA, Ill. — A Camp Jackson fire truck caught fire inside the fire station Sunday afternoon.
Crews at the station found heavy smoke inside the front bay at about 1:02 p.m, Assistant Chief Sharon Davis said. They were able to start the truck and pull it outside away from the other equipment.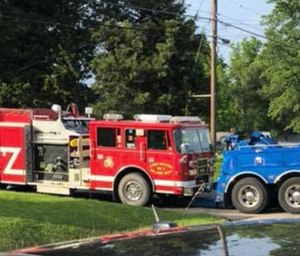 Davis said crews, including Cahokia Fire Department, worked for about 15 minutes to put out the fire at 3201 Camp Jackson Road.
Davis said they believe the fire was electrical. She said they do not know if the truck, which is from 1999, can be salvaged or not.
Copyright 2018 Belleville News-Democrat