Houston ladder truck burns at warehouse fire
Following a partial building collapse, products from inside the structure ran underneath Ladder 28 and it ignited
---
By Janelle Foskett
HOUSTON — A Houston ladder truck ignited as crews battled a massive warehouse fire in the southwest area of the city.
Houston fire crews responded to the blaze at a salon and spa wholesale business in a 35,000-square-foot building around 10:30 a.m. Friday, reported ABC13.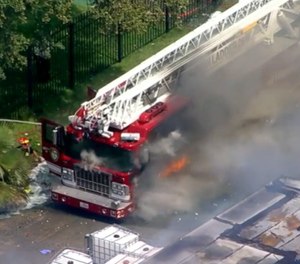 Operations eventually turned defensive at the three-alarm blaze, as explosions erupted at the scene.
Additionally, fire officials explained that at one point, there was a partial collapse in the back of the structure, and some of the product contained inside the structure spilled and ran underneath the truck, causing it to catch on fire. Fortunately, all firefighters are accounted for, and there were no injuries.
Assistant Fire Chief Justin Wells said sodium hydroxide and alcohol were identified inside the building where hair products and hand sanitizers were made.
The department eventually had to turn off the hoses due to environmental concerns about the runoff, but they were able to contain the blaze.
The department's hazmat team and arson investigators are on the scene.
A shelter-in-place order was issued for residents in the area.