Kan. fire dept. truck consumed by discarded cigarette fire
Fire Chief Garry Berges said that although the firefighter in the truck was able to get out safely, the "fast attack truck" was completely destroyed
---
By FireRescue1 Staff
GEARY COUNTY, Kan. — A fire department's fire truck was destroyed in a fire that was started by a discarded cigarette, according to officials.
Hays Post reported that the "fast attack" rig was consumed by a rural grass fire that burned around 200 acres, according to Rural Fire Chief Garry Berges.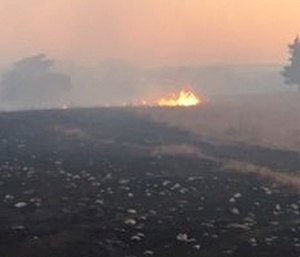 Chief Berges said a firefighter who was inside the truck at the time was able to get out safely. He was checked out at the hospital but is OK.
"The fire was moving at a very high rate of speed inside that area," Chief Berges said. "In the process of fighting the fire, one of our fire trucks lost power. The fire overtook the truck, the fire ended up consuming the truck, the person inside the truck was able to get out without any injuries. We did lose one what we call fast attack truck that carries about 300 gallons of water on it during the course of the fire. "
Chief Berges added that the truck was insured.