Ohio fire truck falls in river
It is unclear how the fire truck became submerged
---
OAKWOOD, Ohio — Emergency crews in Ohio had an unusual rescue operation on their hands last week – a fire truck submerged in a river.
Oakwood firefighters were testing equipment that had failed the previous evening at the time of the incident, according to The Lima News.
However, it's unclear how exactly the apparatus ended up submerged in the Auglaize river.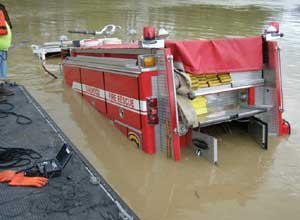 The vehicle suffered extensive damage in the incident.
A dive team from the Putnam County Sheriff's Office assisted in pulling the truck from the water, and no one was injured.
The Oakwood Fire Department has four other trucks in its fleet.