Firefighter killed in Fla. Wendy's shooting went back for toy
---
By Brian Skoloff
The Associated Press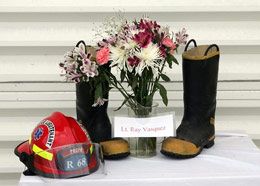 Photo courtesy of The Palm Beach Post
A small memorial is set up Tuesday at the Palm Beach County, Fla., Fire Rescue Station 68 honoring Lt. Ray Vazquez.
A gunman in a jacket and tie wordlessly opened fire inside a Wendy's during the lunchtime rush Monday, killing a firefighter who had gone back to fetch the right toy to go with his child's meal and wounding five others. The 60-year-old shooter then committed suicide.

"This was not a robbery. He didn't demand anything," said Paul Miller, a Palm Beach County sheriff's spokesman. "Looks like this was just another random shooting like we've seen around the United States."

The 42-year-old victim, Palm Beach County Fire-Rescue Lt. Rafael Vazquez, who was not in uniform, had met his wife and child at the restaurant during a break in training down the street, Deputy Fire-Rescue Chief Steve Delai said. The family had gotten their food and walked out, but Vazquez returned because the wrong free toy had been included in the kids' meal, detectives said.

Vazquez's wife, a law enforcement officer in nearby Palm Springs, and child were in the parking lot when he was shot in the back as he stood at the counter.

"Our officer probably didn't even see him," Delai said of the gunman, Alburn Edward Blake.

Miller said Blake, a handyman and maintenance worker, had no relation to anyone at the restaurant and had never worked for Wendy's, and authorities had not found any notes.

"We don't know why he picked this location to do this horrible deed," he said.

Vazquez had been promoted in January and was attending a course called "Strategy and Tactics" before taking his lunch break. Delai said the course teaches officers how to "manage large-scale incidents like we had today."

The mayhem unfolded just after noon during the lunch hour rush at the eatery on a major suburban road lined with strip malls, car dealerships and fast food restaurants, about five miles from downtown West Palm Beach. A billboard advertising an upcoming gun show stands just behind the Wendy's.

Blake entered the restaurant and went to a restroom before coming out brandishing a 9 mm handgun, Miller said. About 10 to 15 people were in the restaurant at the time, he said.

'People running'
Ashley Milton, 28, said she had just opened the door to get lunch when she heard the "pop pop" of gunfire and saw people running.

"I really didn't think that's what it was. I thought this can't be happening," she said. "You see your life flash before your eyes."

Josh Maynard, 30, said he and his 20-year-old brother Jerry hit the floor when Blake opened fire. Jerry Maynard said the shooter held his gun sideways and said nothing.

The gunman went to the counter, Miller said, shooting Vazquez before slowly turning to his left and firing on others.

Three of the survivors were critically wounded, but all had improved and were hospitalized and stable Monday evening, Miller said. They included a 43-year-old man, a 16-year-old girl, and a 65-year-old man and his 62-year-old wife. Two others had minor injuries, including one person who was injured while running away.

Motorists at the drive-through window also fled, some leaving their vehicles running.

"I just saw a lady with a little boy in her arms come running out screaming, 'Somebody's shooting!'" said Sandra Jackson, who had been getting gas across the street. The woman said her husband was still inside, said Jackson, 43, of Palm Springs.

When the shooting stopped, the Maynard brothers ran out of the restaurant. Josh Maynard's blue jeans were torn and his brown leather boots were sliced, damage he said was caused by a bullet that grazed him as he lay on the floor.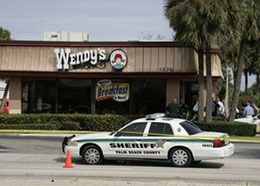 AP Photo/Pat Carter
The scene of the shooting Monday.
"It felt like somebody kicked me in the foot," he said.
One customer kicked the pistol away from the gunman after he shot himself, then started first aid on the wounded, Miller said.
Blake owned a maintenance company until 2003, according to public records. A 1996 story in The Palm Beach Post reported that he accidentally ran over an 18-month-old girl with his van, seriously injuring her. The story said he had a young daughter who would now be a teenager.
Neighbors described Blake as a quiet man who kept to himself. Michele Grippe watched police go into Blake's apartment after the shooting to search it.
"The only thing they took out of the house was a bag of pills," Grippe said. "Right now, I'm really, really shocked. ... I'm here with my kids, and it's really scary to think about that. Sometimes we'll keep our door open. My kids play outside."
Vazquez, the man killed, was well liked at Royal Palm Beach Station 28, Palm Beach County Fire-Rescue Capt. Don Delucia said.
Vazquez's wife was a corporal for the Palm Springs Public Safety Department. They had one child together and four from previous relationships, Delucia said.
Bob Bertini, a Wendy's Inc. spokesman based in Dublin, Ohio, called the shooting "a senseless tragedy."