Firefighter killed in St. Louis-area shooting
The Associated Press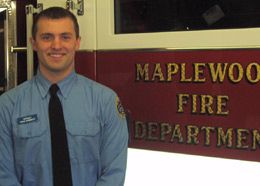 Photo courtesy of Maplewood FD
Ryan Hummert.
MAPLEWOOD, Mo. — Firefighters became victims of what appeared to be an ambush Monday when they were fired upon from a house as they worked to put out a vehicle fire across the street, police said. One young firefighter was killed, two police officers were wounded and the house where the shots were fired later burned to the ground.
It was unclear Monday afternoon whether the gunman died in the house fire; authorities were searching the remains of the brick bungalow, St. Louis County police spokeswoman Tracy Panus said.
Little was known about the man who lived in the house in Maplewood, a suburb just southwest of St. Louis. Neighbors described him as quiet and reclusive.
Someone began firing shots from the house when firefighters arrived in response to a 5:40 a.m. report of a pickup truck fire.
The city identified the slain firefighter as 22-year-old Ryan Hummert, son of former Maplewood Mayor Andy Hummert. Officials said he was shot to death as he got off the fire truck.
The firefighter had graduated from paramedic training in August and from the fire academy in March.
"He had been with the fire department for only 10 months but knew it was his calling," Fire Chief Terry Merrell said as he fought back tears. "It's impossible to say in words the emotion and pain we are feeling right now."
A Maplewood police officer was treated for a shoulder wound that was not considered life-threatening, St. Mary's Hospital spokesman Eric Clark said. There was no immediate word on the condition of the other wounded police officer, who was taken to another hospital.
Homes evacuated
Police evacuated some nearby homes, using armored vehicles in some cases, as dozens of officers surrounded the house.
"They knocked on my door, bam, bam!" said neighbor Joanna Bedford, who was asleep when police arrived. "They said, 'Let's go. Go right now!'"
The house caught fire later in the morning. Police rifles stayed pointed at the house as smoke poured from it, but authorities saw no one leave the building before it burned to the ground.
By the afternoon, the house had collapsed, Panus said, and police were using heavy equipment to sort through the debris. A neighboring home also was damaged by the fire.
Peter McCreary, a St. Louis County police chaplain, said his mother lives across the street. The burning truck was in her driveway, but it wasn't hers and she didn't know how it got there.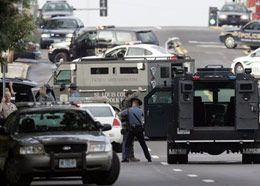 AP Photo/Jeff Roberson
Police surround the area around the house where the gunman was barricaded Monday.
McCreary said his mother, 81-year-old Julia McCreary, awoke to what she thought was a backfiring vehicle. It turned out to be gunfire. Soon thereafter, police arrived and took her out a back door, carrying her over a fence to safety.
Julia McCreary told her son that in the two years she lived in the house she had waved to the man, but that he never spoke to her.
Sanyoz Rai, who works at a 7-Eleven store nearby, said he heard three or four shots around 5:45 a.m., then saw a police officer go to the ground holding his shoulder. Rai said he then saw a firefighter on the ground behind the truck. He said the body remained there for an hour before authorities could get close enough to remove it.
Black and purple bunting was placed around Maplewood City Hall, where people cried and hugged each other and the flag was lowered to half-staff.
"I can't believe someone would do this," said 9-year-old son Nathan Manestar, who came with his mother and brother to place flowers at the base of the flagpole.