Houston mayor calls for 400 firefighter layoffs to raise pay for others
Mayor Sylvester Turner plans to lay off up to 400 firefighters as he prepares to award pay raises required by a voter-approved proposition
---
Mike Morris and Jasper Scherer
Houston Chronicle
Mayor Sylvester Turner plans to lay off up to 400 firefighters as he prepares to award pay raises required by Proposition B, the voter-approved charter amendment that grants firefighters the same pay as police of corresponding rank, according to five Houston City Council members who were briefed on the plan.
The move to fully implement the pay parity measure comes after talks between the city and fire union about phasing in the raises over five or more years became strained last week.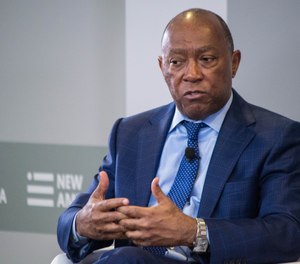 Meanwhile, city officials are preparing council members for the difficult task of closing a $197 million deficit in the annual budget that must be adopted for the upcoming July 1 fiscal year. About $80 million of that budget gap comes from the firefighters' raises, council members were told.
In addition to the firefighter layoffs, Turner will seek to close the deficit by asking all city departments to cut their budgets by at least 3 percent, a move that is likely to require layoffs of as many as 100 municipal workers, the council members said. Councilwoman Brenda Stardig said she was told no police officers will be laid off.
On May 9, Turner's administration plans to issue back pay to firefighters retroactive to Jan. 1, which will total about $30 million, several council members said.
"So, basically, on May 9 you want to be hanging out near a firefighter because he's going to be buying," said Councilman Greg Travis. "He's going to have a lot of money on that day."
The city plans to mail layoff notices to firefighters within weeks, Travis said. Among the layoffs are 68 fire cadets who Turner has declined to promote amid a citywide hiring freeze than has spanned more than five months. The mayor nonetheless promoted more than 60 police cadets Monday.
The fire cadets filed grievances against Turner Thursday claiming the mayor was discriminating and retaliating against them.
"I feel sorry for those guys because in about two or three more weeks they're going to get the notice," Travis said. "It's last in, first out."
Turner's plan would cut about $25 million out of the fire department's $503 million budget, Fire Chief Sam Peña told council members. Officials have said that despite the cuts, the number of firefighters on duty at any time will not change.
Peña also has proposed a reduction in the number of firefighters dispatched to small fires at single-family homes, saying that sending about a third fewer personnel would free up resources without preventing the department from handling minor emergencies.
Houston Professional Fire Fighters Association President Marty Lancton said the layoffs would put the city "below national safety standards."
"The mayor's hatred of firefighters now will have terrible consequences for us and for the public. He's willing to destroy public safety in Houston to punish firefighter families," Lancton said. "A world-class fire department is being destroyed from within by third-rate politicians."
Turner, who campaigned against Prop B and repeatedly warned of potential layoffs if it passed, told reporters Friday that his hands were tied because the charter amendment did not come with a funding mechanism. He also said the fire union rejected a city proposal to phase in pay raises. That offer did not appear to fully implement the charter amendment over the city's proposed five-year window, falling short of increases in incentive pay that the finance department projects would be necessary to reach full parity.
"People want to put the administration in a box," Turner said. "If you don't implement Prop. B, people criticize you for not implementing Proposition B. When we move to implement Prop. B, people say, 'We don't want the layoffs.' Well, you can't have it both ways."
During negotiations since Prop B passed in November, the firefighters proposed to phase the raises in over three years, retroactive to July 1, 2018. The raises then would be distributed based on firefighters' length of service, with all members reaching full parity by July 1, 2020.
Mayor Pro Tem Ellen Cohen said fire union officials should support the idea of phasing in the raises over five years, which she considers a more reasonable time frame.
"One of the critical things in this discussion is that, if the union would agree to implement the expenses over a five-year period, then we wouldn't be looking at layoffs," Cohen said. "That's the key issue, as far as I'm concerned."
Turner's slow implementation of the pay parity measure, which was approved with 59 percent of the vote Nov. 8, has prompted sharp criticism from the fire union. Lancton has said Turner was denying firefighters higher pay unlawfully, while the mayor insisted his administration was figuring out how to define parity across the fire and police departments.
One uncertainty appeared to stem from differences in educational requirements between the departments. For example, police officers must have a master's degree to be promoted to assistant police chief, a stipulation that does not exist for assistant fire chiefs and fire marshals. Under Turner's plan, firefighters would receive reduced raises if they lack the degree required by the corresponding police department position, multiple council members said, explaining why the latest cost estimate of $80 million falls more than $30 million below Turner's previous estimate.
Councilman Mike Knox said he was not convinced that Turner could use the educational requirements to justify smaller raises for some firefighters.
"I'm not sure that's going to fly," Knox said.
Turner defended the move, saying the requirements are part of what constitutes parity between the departments.
"If within police, if there are educational requirements to get to a certain rank, then the same thing ought to be expected of fire, if you want parity," Turner said.
Lancton disagreed, saying Turner was "picking and choosing which parts of equal police-fire pay he will implement.
"Playing games with the education and compensation part of Prop B is dishonest and not with the letter or spirit of the proposition," he said. "City council members already tell us they're uncomfortable with what he's doing."
Meanwhile, Councilman Dwight Boykins said he again would propose a monthly garbage fee at the next city council meeting intended to reduce the number of layoffs. He floated a fee of $8 to $10, a total that likely would not cover the entire cost of firefighters' raises, but still generate tens of millions of dollars in new revenue. The fee would be tacked on to residents' water bills and exempt disabled veterans and seniors, Boykins said.
The District D councilman said Turner was noncommittal and told him to gather support from other council members.
A spokesman said the mayor told council members to bring their revenue suggestions to the council table.
Boykins originally pitched the idea of a garbage fee to help fund firefighter raises last December. At that time, he recommended a monthly fee of $25 to $40. Turner rejected the idea, saying he "will not support forcing Houston homeowners to pay a costly new tax on trash collection to pay for firefighters" salaries.
Travis speculated that the confusion over what constitutes parity likely would spark a lawsuit. Already, the parity issue has played out in court through a case in which the city has alleged that Prop. B violates the state constitution, and another where the city is seeking a ruling that effectively would render the fire union's collective bargaining rights unconstitutional.
The fire union also has asked a judge to force the city to begin implementing the pay raises.
Turner's opponents in the 2019 mayoral election, Bill King and Tony Buzbee, criticized the mayor on Friday. Buzbee said Turner should prioritize cuts among other city departments, such as libraries and parks, while King said Turner's "failure to negotiate in good faith" with firefighters led to the Prop. B-induced budget shortfall.
———
©2019 the Houston Chronicle
McClatchy-Tribune News Service