NFL's Watkins at one with Philly firefighters
Was a firefighter himself in British Columbia, friend in Philly FD injured during fatal warehouse fire
---
By Les Bowen
The Philadelphia Daily News
PHILADELPHIA — It has been a while now since Danny Watkins worked as a firefighter, back home in British Columbia, but the fire hall will always be a big part of his identity.
One of the first things Watkins did when he arrived last year from Baylor after being drafted by the Eagles in the first round was make friends in the Philadelphia firefighting community. One of the best friends Watkins made, Fran Cheney, from Ladder 10, was injured in the April 9 fire at the former Buck Hosiery factory in Kensington, a blaze in which Philadelphia Fire Lt. Robert Neary and firefighter Daniel Sweeney died.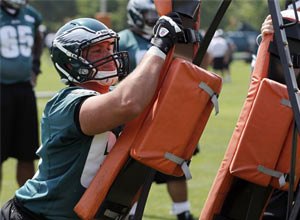 Watkins, the Birds' right guard, knew Neary and Sweeney, he said this week. He attended the memorial services for them.
"You never think of it until it actually happens. It was a very powerful, moving experience," Watkins said. "It's something you never want to see. I was with Fran a lot, consoling and helping him. He was having a tough time . . . He's a strong guy and a great fireman."
The tragedy got Watkins thinking about the job that he took as a teenager, the profession that led him to a California junior college where he eventually took up football and became a first-round draft choice.
"It just happens that fast. Firefighting's a weird thing. It's the only job where you can be sitting, laughing, having a good time, and 2 minutes later, you can be hurled into a burning building," Watkins said.
Watkins recalled Neary, 60, as "a great officer. Getting ready to retire. A very well-spoken, quiet guy, good leader."
He remembered Sweeney, 25, as someone whose "sense of humor was definitely different. He would make you laugh. Fran had great stories of him; they'd always work overtime on the squad together."
"Either one of them would be the first guy to give you the shirts off their back to help you out. If you had to move, or your car broke down, they'd definitely be the first to come get you," Watkins said. "The world's at a loss without them."
Cheney, one of four firefighters pulled from the rubble after a wall collapsed, was treated and released at Temple University Hospital. Patrick Nally, the other injured firefighter who survived, has a longer recovery ahead.
"I don't think it matters how long he hasn't been a firefighter, he will always be a firefighter," Cheney said of Watkins. "I don't even look at him as a pro football player - we don't even talk about football . . . He and I have become very close, since last September. We met at a fire department function . . . the guy's treated me like he's known me his whole life. That's how firemen treat each other."
Cheney, 42, an 8-year veteran of the department, the son of a fire captain, returned to work about 2 1/2 weeks after the fire.
"The absolute worst time of my life," Cheney called it. "[Watkins] actually cut short his trip to Texas to come be with us. He caught the next available flight out and was here the next morning . . . He came right to my house, up in the Northeast. He wanted to go see the families of Bob and Dan. He also went to Temple [Hospital] to see Patrick Nally. He wore his uniform, from West Kelowna, British Columbia, for the funerals, he stood honor guard at the caskets . . . He pretty much never left my side, or our sides."
Watkins said he is looking into what sort of fundraiser he can create to help the families of Neary and Sweeney. "Anything I can do," Watkins said. "It's good to see that everyone comes together like that, but it's under such bad circumstances, it's hard to see."
Cheney, who said he talks to or texts with Watkins a couple of times a day, collects antique fire trucks, and last January he got Watkins interested enough to buy a 1971 Mack fire engine, retired from the Ridge Fire Company in northern Chester County.
"It's only got 40,000 miles on it. We've just been restoring it, working on it," Watkins said.
Some mechanically knowledgeable firefighters from Paulsboro, N.J., have been a big help, he said.
"It runs great," Watkins said. "We put some water in it last week and pulled the hoses off, playing with it. I'm looking forward to bringing it to the games."
This is not the way very many players arrive for games. Watkins' background is unique in the NFL - not just the firefighting, but being from Western Canada, not having played football until college. It isn't a stretch to say he has more in common with some of his local firefighter pals than with some Eagles teammates.
"That's part of who he is. He's a fireman, and he's a football player," said Evan Mathis, the Eagles' left guard. "That's how he spreads his life, between those two things."
The rest of Philadelphia was less welcoming to Watkins than the firefighting community. Fans were skeptical of drafting a 26-year-old guard in the first round, especially one who lacked an extensive background in the sport. Last year's NFL lockout accentuated that concern, keeping Watkins out of the offseason work he badly needed. Then, when a labor agreement was reached and the team hurriedly assembled at Lehigh, Watkins missed the first 5 days of workouts while his agent got his contract sorted out.
In the preseason, Watkins seemed almost comically confused, leading to the emergency signing of Colts castoff Kyle DeVan and the benching of Watkins as the season began. A portion of the fan base wrote him off right then.
But Watkins won the starting job back by Oct. 9 and steadily improved. It's still fair to wonder if the Eagles needed a guard more than anything else in the first round of the 2011 draft, and exactly how many quality years they will get from Watkins, who turned 27 in November. It probably isn't fair to contend that he can't play, just off the bad start.
Watkins doesn't want to talk about what he learned or what he still needs to improve. He said he drew up a list of "key points," with the help of offensive line coach Howard Mudd, but "I don't want to get into" what was on it.
"He just needs to keep doing what he's doing. I think this offseason has been a very valuable asset to him," Mathis said of Watkins. "He's been able to put a lot of time in the film room, a lot of time in the playbook, and get on the field and get the practice he needs."
Last season, Mathis said, "[Watkins] was behind the eight-ball from the get-go, and I think he still played well, given the circumstances. There's not a single physical hurdle with Danny. He's a specimen when it comes to that. Mentally, he started off raw. He's made leaps and bounds, and will continue to do so . . . I couldn't imagine, myself, being thrown into the fire that early, in a similar situation. He's handled it well and will continue to get better and better. A lot has been expected out of him. He knows that.
"He's ready to fulfill everybody's expectations."
Copyright 2012 Philadelphia Newspapers, LLC