N.J. amputee reaches dream to be firefighter
---
The Associated Press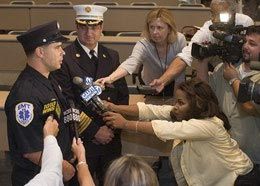 AP Photo/Warren Westura
Isaac Feliciano, left, faces the media with Paterson Fire Chief Michael Postorino after graduating from the Passaic County Fire Academy Friday.
WAYNE, N.J. — A 35-year-old amputee who uses a prosthetic leg realized his boyhood dream Friday of becoming a firefighter.
Isaac Feliciano graduated from the Passaic County Public Safety Academy in Wayne, in northern New Jersey, and is set to report for duty on Monday morning in the nearby community of Paterson.
"I'm excited to have accomplished my goal, and I look forward to serving the people," said Feliciano, who lost his left leg below the knee to gangrene from spinal meningitis as a young child.
Paterson's fire department initially balked at hiring him after the city's medical consultant ruled he was not "physically capable" due to his prosthetic leg, his lawyers said.
Feliciano had already passed a written exam and finished 103rd out of more than 615 candidates in the daunting physical test, which included pulling a hose and carrying a dummy while wearing a weighted vest.
A state board eventually decided in March that Feliciano could enter training as a Paterson firefighter, and he began training in April.
Feliciano wanted to join the fire department since age 4, when a firefighter pulled him from a closet during a fire at his home. Although part of his leg was amputated, he played high school football and baseball, and now participates in Paralympic competitions and runs four miles a day.