South Korean monument destroyed in fire
---
By Kwang-Tae Kim
The Associated Press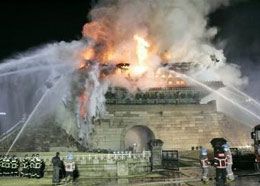 AP Photo/Lee Jin-man South Korean firefighters work to save national treasure, Namdaemun, overnight Sunday. Police said the cause of the blaze was unclear but one official said arson was suspected.
SEOUL, South Korea — Police arrested a suspect early Tuesday in a fire that destroyed a 610-year-old wooden structure atop a gate considered South Korea's top national treasure, Yonhap news agency reported.
Police arrested a 70-year-old man, only identified his family name Chae, on Ganghwa Island, west of Seoul, Yonhap said, citing an unnamed police officer. Cable news network YTN also carried a similar report.
The fire broke out Sunday night and burned down the wooden structure at the top of the Namdaemun gate, which once formed part of a wall that encircled the South Korean capital.
Some 360 firefighters fought to bring the blaze under control, according to Lee Sang-joon, an official with the National Emergency Management Agency. No one was injured, he said.
Lee had said arson was suspected in the blaze.
Firefighters found two disposable lighters at the spot where they believed the fire broke out, Yonhap reported earlier, citing fire official Oh Yong-kyu.
Police had analyzed the tapes from four closed-circuit TV cameras installed near the fire site but none showed any suspects, Kim said Monday,
President-elect Lee Myung-bak visited the scene Monday and deplored the destruction of Namdaemun, the namesake of Seoul's central district and a major tourist attraction.
"People's hearts will ache," he told officials as he received a briefing.
The two-tiered wooden structure was renovated in the 1960s, when it was declared South Korea's top national treasure. The government built a plaza around the gate, officially known as Sungnyemun, in 2005 and opened it to the public the following year for the first time in nearly a century.
The gate, carrying a plaque reading "The Gate of Exalted Ceremonies" in Chinese characters, had been off-limits to the public since Japanese colonial authorities built an electric tramway nearby in 1907. Japan ruled the Korean peninsula in 1910-45.
The Cultural Heritage Administration said it would take at least three years to fully restore the gate and it would cost some $21 million.