Arsonist who set blaze that killed 4 firefighters to be released from prison
Martin Pang set fire to a frozen-food warehouse owned by his parents on Jan. 5, 1995, in an effort to collect insurance money
---
By Heidi Groover
The Seattle Times
SEATTLE — Martin Pang, who set fire to a Seattle warehouse in 1995 in hopes of collecting an insurance payout — a blaze that killed four firefighters in the worst loss of life in the department's history — will be released from prison on Thursday.
Pang, now 62, set fire to a frozen-food warehouse owned by his parents in the Chinatown International District on Jan. 5, 1995, in an effort to collect insurance money, prosecutors said. Four Seattle Fire Department firefighters died fighting the blaze: Lt. Walter Kilgore, Lt. Gregory Shoemaker and firefighters Randall Terlicker and James Brown.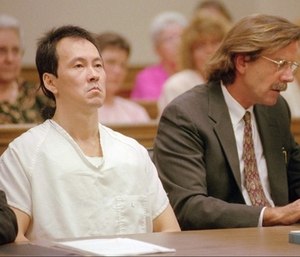 Soon after the fire, an associate told The Seattle Times and investigators that Pang had discussed burning down the warehouse. Ex-girlfriends and ex-wives described a violent man who used fire as a threat, saying he'd burn down homes or businesses.
Before police arrested Pang, the case turned international. Pang fled to Brazil, where officials refused to extradite him to face murder charges. Pang was later returned to the United States, where he pleaded guilty to four counts of first-degree manslaughter. He was sentenced to 35 years in prison.
Pang will have served nearly 20 years in the state correctional system when he is released. Along with time in state prison, Pang received credit for time served in the King County jail and in Brazil, said Washington State Department of Corrections spokesman Jeremy Barclay. Pang spent about two years in jail in King County before being sentenced. He was first admitted to the state system on April 2, 1998, Barclay said. He will be released Thursday from the Washington State Penitentiary in Walla Walla.
When Pang's planned release was announced in May this year, the Seattle Fire Department said in a statement the firefighters who died did so "protecting the community they served."
"The mission of the Seattle Fire Department is carried out every day in their memory," the department said.
Fifteen years into his sentence, Pang returned to police attention when he allegedly concocted a plan to steal money from people involved in his earlier case. Seattle police said in 2013 Pang had gained access to personal information about firefighters and witnesses in his 1995 case, and had plans to steal money from their accounts. Pang and an accomplice also planned to steal from the bank accounts of the Tulalip Casino, police said. The scheme would have created "a nest egg" for Pang once he got out of prison, a detective said in 2013. The fraud allegation earned Pang his only infraction during his time incarcerated, according to the Department of Corrections.
In 2017, Pang failed in an attempt to get relief from the legal fees he'll owe once he's released. The state Court of Appeals ruled Pang will have to pay nearly $3 million in restitution, other legal costs and interest.
When he's released Thursday, Pang will leave prison with $40 in gate money, two boxes of personal possessions and a guitar, Barclay said.
Copyright 2018 The Seattle Times