Firefighter arson: Could it happen within your ranks?
Learn how to identify the signs of firefighter arson within your own ranks and the actions fire chiefs can take to mitigate the problem
---
We're faced with bad news all the time. When that bad news involves firefighters breaking the public trust, it is imperative we take action to get in front of the bad behavior and improve public relations. In this article, Chief John Buckman discusses the signs that may help you identify arsonist tendencies within your ranks and provides some no non-sense guidance.
By Chief John Buckman, III
Recently, a group of volunteer firefighters was charged with multiple counts of arson. Over the course of two years, authorities said, a group of 10 people conspired to set fires to abandoned buildings and wooded areas in a rural North Carolina county. These firefighters were not all young people who we might think are doing this for the thrill of making a fire response.
If you are like most fire officials, you may have asked the question, how could it take so long for someone to recognize what was going on?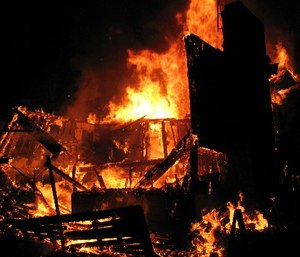 I am sure there are circumstances that we don't understand that allowed the situation to continue over the prolonged period of time. As time goes by and those charged work though the legal system, we may find more out about why and how this happened.
Actions for fire chiefs to take
Firefighter arson is committed by a very small group of firefighters. The mainstream media fails to point out that the minority actions of a few don't truly represent firefighters as a whole.
However, be aware that arson might be of interest to some of our members? Why?
Thrill.
Excitement.
Revenge.
Vanity.
Hero opportunity.
Boredom.
Fire chiefs and local officials should consider the following six actions in regards to firefighter arson:
Acknowledge the problem.
Be aware that you may have a firefighter arsonist in your department if you are seeing an increase in fires where the cause is suspicious.
Educate members, officers and others about the firefighter arson issue.
Screen complete background checks for applicants to your department.
Similar to drug/alcohol abuse, your fire department should have a zero-tolerance policy.
Encourage members to express their concerns to leadership.
Negative firefighter media affects us all
Our reputation as firefighter is always on display and when the actions of a few create a negative media story we are all impacted. Local fire and government officials need to recognize reputation management as a critical component of leading in today's instantaneous society.
Protecting our reputation is a significant challenge in today's social media world. All of us in the public safety arena should continuously reinforce the good that we do for our citizens. In today's 24-hour news environment, we have an opportunity to use the news cycle to our advantage. We should highlight our services and products. We might take for granted how much good we do on a daily basis.
The Cumberland Valley Volunteer Firemen's Association has a White Paper on reputation management. I encourage you to review this paper and implement as many of the action items as possible.
Do you have a firefighter arson problem in your department?
Signs you might be experiencing a firefighter arson problem include an increase in fires of a nuisance nature (e.g., trash or dumpster containers, or grass fires). Look for the following signs of firefighter arson:
An increase of nuisance fires occurring overnight.
A firefighter being out of place when the call comes in.
An off-duty firefighter at the station when the call comes in instead of being home.
The National Volunteer Fire Council Report on the Firefighter Arson Problem profiles the characteristics common to arsonists:
White male, age 17-26.
Product of disruptive, harsh or unstable rearing environment.
Poor relationship with father, overprotective mother.
If married, poor marital adjustment.
Lacking in social and interpersonal relationships.
Poor occupational adjustment, employed in low-paying jobs.
Fascinated with the fire service and its trappings.
Interested in fire service in the context that it provides an arena for excitement, not for the sake of public safety.
May be facing unusual stress (family, financial or legal problems).
Average to above-average intelligence, but poor or fair academic performance in school.
Don't ignore the facts when it comes to firefighter arson
Talking about what many consider unthinkable and increasing awareness of the possibility you may be having a firefighter arson problem is not comfortable. It is never comfortable entertaining suspicions about what one of our brothers or sisters might be doing. I have always thought it best to rely on my gut instinct.
It is important to learn how to listen to and trust your gut. It is also important to weigh facts to ensure you consider all the options. The facts – not emotion – should be what drives your action.
Trusting your gut means you describe circumstances, other people's motivations and your own behavior using assumptions you choose to believe are facts. You find reasons to believe what your brain is saying, even when it believes in absolutes you can't possibly prove. Few things in life today are absolutely true forever. Things keep coming up that debunk what we thought we knew.
What you believe at any given time is only a small bit of reality based on what you have learned in the past.
Ignoring facts about potential signs and symptoms of potential firefighter arson activities by one or more of our brother and sister firefighters may result in injury or death of one of our own, or a civilian.
Expressing a concern about firefighter arson within your department will not be a popular action, but leadership requires courage to make the tough decisions.