Juvenile charged with arson at youth home
The North Carolina facility, which shelters children between the ages of 10 and 17, was badly damaged in the blaze
---
Adam Orr
Gaston Gazette, Gastonia, N.C.
GASTONIA, N.C. — Monica Lail sighs slightly as she pivots under her umbrella and glances across the parking lot through the cold rain at what's left of With Friends Monday morning.
"My heart aches for these kids that were devastated by the experience of this fire," Lail, associate director of With Friends, said Monday. "And their dislocation in having to find another home."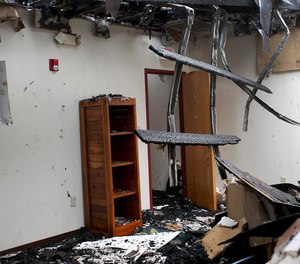 The youth shelter on Keith Drive was badly damaged by fire Sunday morning. Firefighters responded to the blaze shortly after 3:30 a.m., according to Gaston County dispatchers, and were on scene for the remainder of the morning through early afternoon.
Jim Landis, public information officer for the Gastonia Fire Department, confirmed Monday investigators believe the fire was set intentionally.
Now, a juvenile is in custody on arson charges, according to Gastonia Police Department spokeswoman Donna Lahser.
Lahser said the arrest was made shortly before noon on Sunday, but declined to disclose whether the person arrested had any connection to With Friends.
Lail said her organization serves young men and women between the ages of 10-21, but said the Keith Drive facility served younger children, from 10 to 17 years of age.
She said children find their way to With Friends by a variety of routes. Some come from broken homes and abusive relationships. Others are homeless, and some have run away from home, she said.
"Some of them have been staying in laundromats to stay warm, or staying with other friends - couch surfing," Lail said. "They all need to have shelter so they don't fall into harm's way."
Luckily, Lail said the facility was at less than capacity when the fire was set Sunday morning, and said clients and staff were able to exit the building before the situation worsened.
"We'll definitely rebuild," Lail said. "These kids have nowhere to go, we're in the process of working with insurance and donors."
Multiple local groups have also stepped up to help With Friends as it struggles to chart its next steps. Sentinels of Hope-Gastonia donated a freezer to the youth home Monday, for instance.
"We're thankful for the donations pouring in, everything from food to clothing," Lail said. "Most of our freezers and fridges were (in the fire)," Lail said. "Our community is really coming together for us."
———
©2019 Gaston Gazette, Gastonia, N.C.
McClatchy-Tribune News Service