Trial set for men charged in fire that killed firefighter
Patrick Wolterman's colleagues, chief and wife attended the hearing
---
By Lauren Pack
Dayton Daily News
HAMILTON, Ohio — A fall trial date has been set for a Hamilton man and his nephew charged in the arson fire that killed a Hamilton firefighter.
Lester Parker, 66, is the owner of the Pater Avenue residence where firefighter Patrick Wolterman died in December 2015. He is charged with two counts of aggravated arson and murder. William "Billy" Tucker, 46, Parker's co-defendant, is facing the same charges.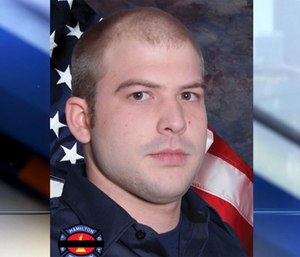 Parker and Tucker were in Butler County Common Pleas Court this morning where Judge Greg Stephens set Nov. 6 as a trial date. The prosecution and defense anticipate the trial will last three weeks.
But that date could change for at least one defendant. Tamara Sack, attorney for Tucker, told the judge she intended to file a motion to sever the cases, meaning the co-defendants could receive separate trials. The attorneys and prosecutor will be back in court in April for a hearing on motions filed by both sides.
Stephens also approved $3,000 each for both Parker and Tucker's attorneys to hire an investigator to talk to witness and review evidence.
Prosecutors say Parker solicited Tucker to light the fire where Wolterman died fighting the blaze on Dec. 28, 2015.
Hamilton firefighters, including Chief Steve Dawson, and Wotlerman's family, including wife, Bre, were in the courtroom as they have been for every hearing.
Tucker and Parker's family were also present, sitting in the front row.
All had no comment.
Copyright 2017 the Dayton Daily News