Volunteer firefighter, 19, charged with 18 counts of arson
Fire Chief Randy Schroeder said his department is shocked by the arrest
---
MAYERTHORPE, Alberta — A junior volunteer firefighter is facing 18 counts of arson after helping fight fires he's accused of setting.
CTV News reported that Lawson Michael Schalm, 19, was charged in connection to a recent rash of fires, including a fire that destroyed a historic bridge. Fire Chief Randy Schroeder said his department is shocked by the arrest.
"To learn that Lawson Schalm was involved in this, there is a sense, on behalf of the members, of a certain sense of betrayal," Chief Schroeder said.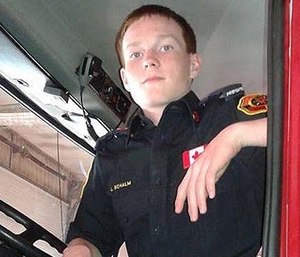 Schalm started as a cadet with the department at 15 and became an eligible firefighter on this 18th birthday.
"We didn't see it coming," Chief Schroeder said. "I try not to take it personally. I'm struggling, like a lot of our members, with 'why' and 'how' and 'what did we miss?'"
Chief Schroeder said fighting and investigating the rash of fires has taxed his department. Crews responded to five fires on Friday alone, according to the report.
"At the height of this [past] week we were running calls an hour to an hour and a half apart. With the trestle [bridge fire] we were 12 to 14 hours on that scene," Chief Schroeder said.
The bridge that was destroyed last week led to an evacuation of two schools and a trailer park. It took about three dozen firefighters from four departments, helicopters and a water bomber to douse the flames.
Schalm will remain in custody until his first court appearance on May 4.
RCMP investigating after suspicious and dramatic fire engulfs Alberta trestle bridge https://t.co/TZllkTJlvt pic.twitter.com/cZjvLiGlxM

— National Post (@nationalpost) April 27, 2016
Appears massive fire that destroyed wooden trestle bridge near #Mayerthorpe, may have been deliberately set. https://t.co/1liHjeL1AO

— CityNews Vancouver (@CitytvNews) April 27, 2016