NY firefighters displaced by asbestos may get temporary station
Newburgh firefighters displaced from their asbestos-riddled firehouse will get a temporary home at the Good-Will Fire District's new station under a new proposal
---
By Leonard Sparks
The Times-Herald Record
NEWBURGH, N.Y. — The firefighters and engine truck displaced from the City of Newburgh's asbestos-riddled West End Firehouse will get a temporary home at the Good-Will Fire District's new station under a proposed agreement the City Council is expected to vote on Monday.
Good-Will would set aside one of the station's bays for the West End's engine truck and allow the city to install a trailer in the station's parking lot for firefighters' use.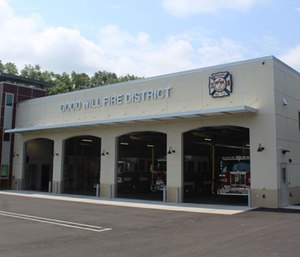 The Good-Will station is located just outside the city's western border, meaning the Newburgh fire department can still provide quick coverage on the city's west side.
In exchange, Newburgh would cover Good-Will's calls between 8 a.m. and 5 p.m.
"That's when they have their hardest time getting out," acting Newburgh Fire Chief Terry Ahlers told the Council on Thursday. "A couple of weeks ago, we were there twice. We were the only fire truck on the scene at both calls."
Newburgh announced a month ago the closure of the West End Firehouse, located at 492 Broadway, after a contractor confirmed that debris in the building's first-floor kitchen, a stairwell and a second-floor bathroom contained asbestos.
The firehouse is considered important because it allows a quicker response to fires on the city's west end.
The main firehouse is on the east end, where it shares the Public Safety Building with the police department.
Under another term of the proposed agreement, Newburgh would provide Good-Will with a 1-inch water meter the district would use to replace the 4-inch meter installed at the station. Good-Will would cover the installation cost.
"Their water bills have been tremendously higher because of the increase in size of the water meter," Corporation Counsel Michelle Kelson said.
Newburgh is still in the process of determining the cost to rid the West End Firehouse of asbestos.
The city also faces a potentially large bill to undertake repairs at the Public Safety Building, which is riddled with mold and may need a replacement of its heating, ventilation and air-conditioning system.
Newburgh also has long-standing problems at its Department of Public Works building and issued a request-for-proposal for City Hall, which may require an expensive overall to eliminate structural problems that required the installation of emergency shoring two years ago.
The city is seeking a developer who would buy the building and turn it into a boutique hotel or some other business.
"Staff, Council, (city) manager – everybody's going to need to put our brains together to come up with a long-term plan for the West End Firehouse, the Public Safety Building, City Hall (and) DPW," Kelson said.
Copyright 2018 The Times-Herald Record
McClatchy-Tribune News Service