Firefighter raises autism awareness after son's diagnosis
Fabric of Fire Service winner Pete Villasuso created an autism-awareness program for his fire department after his son was diagnosed with the disorder in 2012
---
The Fabric of the Fire Service is a new program from FireRescue1 and TECGEN that uncovers great firefighter stories and honors those who have gone beyond the call of duty to help others. Firefighter Pete Villasuso, whose son was diagnosed with autism, created a first responder autism awareness course explaining what autism is and how firefighters should approach a subject with autism. Tell us your story and you could win a full set of TECGEN PPE gear.
The number of children diagnosed with autism spectrum disorder, commonly referred to simply as autism, is on the rise.
In 2014, the Centers for Disease Control and Prevention released a report saying that autism affects one in 68 U.S. children. That's a 30 percent increase from one in 88 two years ago.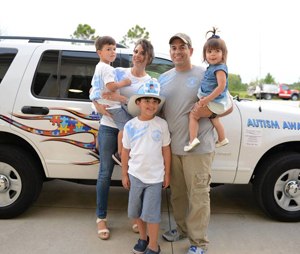 Children with autism also continue to be overwhelming male. The CDC estimates that 1 in 42 boys have autism, 4.5 times as many as girls.
And for firefighter Pete Villasuso, his son is among that statistic.
'I was angry; I felt cheated'
Villasuso, with the Saint Lucie (Fla.) County Fire District, has been a firefighter-paramedic since 2003. He started out as a volunteer, transitioned to career and is now also on the department's special operations team.
He met his wife, Sharon, in Miami, where they attended high school, got married and later had their first son, Ethan, in 2008. They also now have a 3-year-old son and a daughter who is almost 2.
"When Ethan was diagnosed, it was really shocking," Villasuso said. "Our pediatrician wasn't able to answer any questions that we had. [Ethan] didn't speak but a few words by the time he was three. It put a lot of stress on our relationship."
It wasn't until they put Ethan in preschool when someone mentioned that they should have him tested.
"My wife made an appointment at the Dan Marino Center, and when she did that I was still in denial," he said.
When they went to the center in 2012, it took the doctor only 10 minutes to diagnose Ethan with Autism Spectrum Disorder.
"I was still very angry and felt cheated, because most fathers were playing ball with their boys, talking with them and Ethan could not," he said. "But then I started learning about autism and how important early diagnosis was."
Opening up about autism
After they got the diagnosis and Ethan started therapy, it was still a private matter for Villasuso.
"I felt like a failure, like we did something wrong," he said. "Once I was able to move past that, I got appointed on our local IAFF executive board and saw all the types of community events we were doing."
The board was having one of its meetings in October and the department was about to don pink shirts for Breast Cancer Awareness month. And that's when Villasuso started thinking about creating an Autism Awareness day.
"I was sitting there at the table and I just said, 'I want you guys to know that my son has autism,'" he said. "It was such a huge moment for me to share that and I said I'm glad we're being so proactive about breast cancer awareness, but I don't see why we can't do the same in April."
After that, he started making contact with different organizations and created a T-shirt with their fire department logo and puzzle piece for Autism Awareness. For two years now, the department's 400 employees have worn the T-shirts in April.
But that wasn't enough.
He wanted to extend awareness even further by training first responders on how to respond to a situation involving children with autism.
First responder autism awareness
He searched for someone who could assist him in creating a training program. He eventually found Dennis Debbaudt, another father to a son with autism, who took the lead in building the four-hour first responder autism awareness course explaining what autism is and how firefighters should approach a subject with autism.
"When I started my quest to find information and help, it led me to Dennis," Villasuso said. "He was so kind and helped me put together our program at no cost."
Villasuso's department was the first fire rescue agency in Florida with the specialized training.
"In our job, we always come in fast, and I had to explain to the guys that you have to put on the brakes and slow down," he said. "You can't run up and jump in their face; they could be scared of the lights and sirens because of their hyper-sensitivity."
The training includes videos of children with autism, showing their traits and reactions. There's also a mock vehicle accident that shows how kids with autism react to lights and sirens and overstimulation.
After the first training session, several firefighters came back and shared stories about how the class helped them while responding to a scene involving subjects with autism. They told Villasuso that were successful because they knew what to do and how to deal with their behavior.
"Since we trained all of our firefighters the first year, it was too soon to train them again the second year," he said. "So, we reached out to our school boards in town and brought a fire truck to all of our schools in the county that have an exceptional student education program and we let them see the fire trucks without being in a rush."
The firefighters who had the autism-awareness training were still on duty, but were not available on-call. They were able to spend an hour with the autistic kids — with no interruption — and let them approach a fire truck on their time.
The firefighters were advised by many teachers that their kids weren't going to even look at the trucks.
Villasuso remembers watching one girl in particular as she surveyed the truck.
"When she approached the rig she was very apprehensive," he said. "Next thing you know, she got into the back of engine, had this huge smile across her face." The entire month of April, the department visited schools and Villasuso experienced many similar moments.
"For the firefighters to be there in our community at our schools, and to have our chief give us the time uninterrupted, not rushed, not loud, it was just awesome," he said.
With the eye-opening statistics coming out of the CDC, it is clear that autism is a big part of nearly all communities. And Villasuso is one firefighter who's been able to bridge the gap between his personal life and his service to the community.
"I hated that Ethan had autism, but as I learned more it helped me accept it," he said. "It ended up pushing me to be an advocate for him and so many others. It has become my life mission to help the world understand autism, accept people with autism and make it safer for him."