Mom thanks firefighters for singing to autistic daughter after crash
Summer Ginn was driving her 2-year-old daughter to school when she lost control of her car and hit a tree
---
By FireRescue1 Staff
HALL COUNTY, Ga.  — A mother expressed her gratitude to firefighters for calming her autistic daughter by singing "Wheels on the Bus" after a car crash last month.
WSBtv.com reported that Summer Ginn was driving her 2-year-old daughter, Raelyn, to school Oct. 25 when she lost control of her car. She ran off the road, over-corrected and crossed two lanes of traffic before hitting a tree.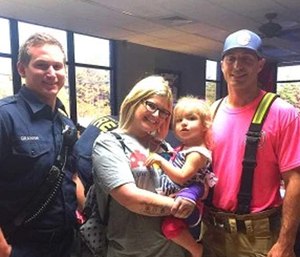 Ginn knew Raelyn was terrified, so she asked Hall County firefighters if they could sing to her. Without hesitation, firefighters Caleb Rumbaugh and Brian Gregory started singing.
"Thank you for giving me those brief moments of hope while she was content and quiet," Ginn said. "By keeping her calm, you kept me sane (relatively). You made the most traumatic experience of my life sting a little bit less. Our car wreck was just another day on the job for you, but you left a lasting impression on me and I will never forget what you did for us that day."