'Chief of the Year' awards presented at FRI
The 16th annual awards, sponsored by Pierce and led by Fire Chief Magazine, acknowledge both career and volunteer fire chiefs
---
ATLANTA — As Hurricane Irene headed toward America's East Coast on Friday, one fire chief was due to be honored for one of the fire service's top awards.
But the dedication toward his community and department that led to Chief Robert Perry being nominated for Volunteer Fire Chief of the Year in the first place meant he couldn't be there in person to receive the award.
Chief Perry was a notable absentee when he was given the honor at Fire-Rescue International in Atlanta on Friday — the previous day he chose to fly back to help the Union Fire District in South Kingstown, R.I., prepare for the approaching hurricane.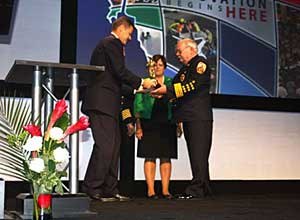 "He needed to be back with his community and his department," Jim Johnson, Oshkosh Corporation executive vice president and president, fire and emergency, told the opening ceremony where the award was due to be delivered.
Sponsored by Pierce and led by Fire Chief Magazine, the 16th annual awards — which acknowledge both career and volunteer chiefs — were presented at Fire-Rescue International on Friday.
Chief Perry has been a volunteer firefighter for more than 40 years, and has served as the chief at the 300-member Union Fire District since 2004. He was given the award for being "intensely devoted to firefighter safety and training."
During his tenure, he has built a culture that cultivates firefighting skills among all walks of the service. For training purposes, he spearheaded efforts to build — among other multiple props — a tower and a Class A live burn building.
Chief Debra Amesqua, of the City of Madison Fire Department in Madison, Wis., was given the Career Fire Chief of the Year Award during the ceremony Friday.
Chief Amesqua is nationally recognized for her work on senior level management training for fire service women and breaking down barriers for people of color.
She has developed and presented workshops and authored professional papers on subjects related to executive officer career development, and building a learning organization in the fire service.